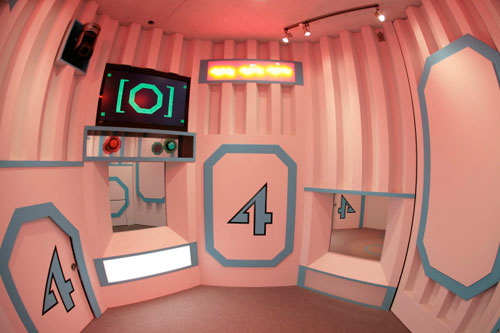 ABOUT SOLITARY 4.0

As with the first three seasons, the premise of Solitary v4.0 is simple: the last person to leave their pod – small, barren and completely isolated – wins bragging rights and $50,000.  There are no councils, no alliances, and no votes. No one goes home until they themselves choose to push the red button and quit.   All contestants willingly place themselves in their assigned "pods" to undergo grueling tests and treatments assigned by their sarcastic, omniscient digital taskmaster, Val.   These individuals are subjected to sleep deprivation, extreme temperatures and other forms of environmental stress meant to "break" them, thus causing them to leave their pod and lose.   Perhaps the most challenging part about Solitary is that contestants have no idea what the other contestants are doing or how much longer they must endure the competition.

Never-before-seen challenges for Solitary v4.0 include "The Virtually Amazing Race," a physically grueling and puzzling journey through a virtual maze; "Don't Fence Me In," where the contestants' tiny pods become even more claustrophobic as jail cells from which they must escape; "Slap Unhappy," which requires the guests to drive a sound meter into the red zone by slapping themselves; and "Head of Nails," which is part iron maiden, part electric chair, and 100% excruciating!

Fox Reality Channel will give viewers even more Solitary v4.0 with exciting online content, including 30 webisodes posted on foxreality.com. Videos will give users an opportunity to view special footage, which will not be seen on-air.

Solitary v4.0 is executive produced and co-created by Emmy Award-winning producer Andrew Golder (Identity, World Series of Blackjack, Win Ben Stein's Money) and Lincoln Hiatt (Unan1mous).
REALITYWANTED
Six of the 10 Solitary 4.0 cast members were scouted by casting directors and located on RealityWanted. See Story about the solitary 4.0 cast here

CASTING
Casting for Solitary 4.0 was done by Casting Director Leyna Raskoff and Associate Casting Director Frank Prather

SEASON 5

Uncertain due to Fox Reality Channel going off air in March of 2010. A grass roots campaign to Save Solitary was started at SaveSolitary.com

Solitary 4.0 Premier Date

1/30/ 2010 On The Fox Reality Channel