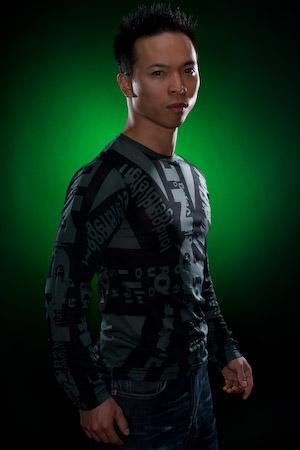 He had so much heart for the game. #2 never quit a treatment until the end. RealityWanted.com chats with Rommel Gargoles about life in Solitary and what he learned from the experience. 
Q. Maureen, RealityWanted: I was heartbroken to see you go. Thanks for the taking the time to speak with me today. How did you hear about Solitary?
A. Rommel: I've been a member of RealityWanted.com for some time. Originally, I was cast on NBC's America's Toughest Job. From then on, I did a few pilots through RealityWanted.com. It's easy to use, and I applied to several shows and most of them I got callbacks. And, then I saw the casting on Solitary 4.0.
Q. Maureen, RealityWanted: Have you seen Solitary before?
A. Rommel: Honestly, no. I flipped through it before. I remember watching it and thinking these people are crazy. Why in the world would someone do something like this? I saw bits and pieces of season two. In your season [Solitary 3.0], I saw the entire season and I was thinking, I can do this.
Q. Maureen, RealityWanted: How did you learn that you were part of the Solitary 4.0 cast?
A. Rommel: I was told a day before and next thing I knew I was in the pod. 
Q. Maureen, RealityWanted: Describe your experience.
A. Rommel: It's definitely everything I expected and much more. Watching it on TV and doing it, so different. I was so nervous. When I entered the pod for the first time, I was shaking so much because I could hear the chains rattle. 
I had no idea how hot the pod was or how tough the experience was. Not once did I think about hitting the red button. I told Val, you have to remove me out of the pod with a stretcher. People saw every emotion. When I was sad, mad, and happy. I cried. People told me I was a big cry baby. I definitely laid it out on the table. 
Q. Maureen, RealityWanted: You didn't hit the red button until the end. What made you keep going? 
A. Rommel: For me, it was about my family and my students that kept me going. The hardest part for me was not losing, but for them to see me fall short. 
If I had won, I'd give a huge portion to my family. I feel like it's time for me to give more to my family. I was so heartbroken when I had to quit. 
Q. Maureen, RealityWanted: What was the hardest treatment? 
A. Rommel: The hardest treatment was balancing and doing the squats. I was up to 20 penalties. It was very discouraging. I was thinking, how fast are these people? When I watched the show, Tyler and I used both sides, while Kelsey used just one side. While doing the squats, I kept looking at the wall with my family's names so I wouldn't think of the pain. 
Q. Maureen, RealityWanted: Going into the last treatment, did you think you'd walk away as the winner?
A. Rommel: I never took myself out of the game. But, I kept thinking, I want to shower, brush my teeth, and go back to a normal life. Mentally, I was really drained. When I saw what we had to do for the final task, it wasn't so much about running on the wheel. It was me having a brain fart and calling out the same letters. I wasted a lot of energy. I was mentally exhausted. I gave up at the end because my legs couldn't push anymore. I gave it my all. Had I won the challenge and earned a "pass," the ending could've been different. 
Q. Maureen, RealityWanted: What won't you miss about Solitary?
A. Rommel: The lack of sleep and no sense of time. Every time I closed my eyes, I heard Val say good morning ... good afternoon and I was thinking, I just closed my eyes. I won't miss the heat. It was excruciatingly hot. As much as I hated it, I loved the experience. You grow so much as a person. I learned so much about myself. I learned things about myself that I didn't know. 
Q. Maureen, RealityWanted: Did the show portray you accurately? Why or why not?
A. Rommel: The show didn't portray me that accurately. Did I break the keyboard? Yeah. Did I cry? Yes. I was seen as an angry person. I was bleeped the most out of anybody. They kind of summed it up as a person who breaks things and cries a lot. I'm really a happy-go-lucky guy. I was constantly joking with Val. I even mooned Val. 
Q. Maureen, RealityWanted: What did you learn about yourself while you were on Solitary?
A. Rommel:  I do rely on my friends and family a lot for support and their approval, even though I am a strong person. If I have a problem, they are the first person I can call. Being on Solitary, I can stand up on my own two feet. I am a stronger person and I am capable of doing things by myself even during rough times. 
Q. Maureen, RealityWanted: What's next for Rommel? Any more shows?
A. Rommel: I just moved to Houston, Texas, and I'm teaching karate for Chuck Norris' school. That is my pride and joy. I'm pretty much just teaching kids. The organization is called Kick Start. It allows me to give back to kids. I'm a strong believer leaders are made and not born. 
Q. Maureen, RealityWanted: Any advice for those who want to get on a reality show?
A. Rommel: My advice never give up hope. Never get discouraged. Nothing happens overnight. Some people get lucky, but it's really hard work. Learn from your mistakes. If you don't get a callback, ask yourself why. There has to be something about you that has to connect with the show. If you're fit and you're trying out for a weight loss show, it won't work. Don't apply just to be on TV. Keep trying.
Read Solitary 4.0 Recaps, Solitary 4.0 Cast Interviews, News and More At The RealityWanted Solitary 4.0 Homepage.
Find me on Facebook and be sure to visit me on www.maureenfrancisco.com. 
Find more SOLITARY at not here to make friends.