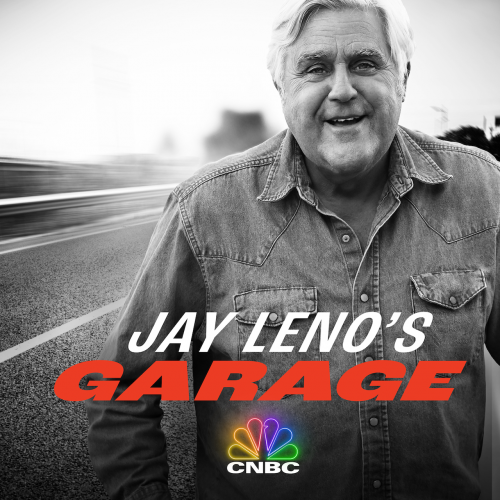 CNBC announced Jay Leno is back on the road for its most revved up season yet with season 6 premiering Thursday, September 22.
Twelve new episodes with legendary comic, host, and recent Automotive Hall of Fame inductee, Jay Leno, featuring even more speed, strength, shocks...and a space race!
In the upcoming season, Jay shifts gears with superstar friends including Tiffany Haddish, Kelly Clarkson, James Corden, Mark Cuban, Ashton Kutcher, Michael Strahan, Margaret Cho, Trevor Noah, Kevin Bacon, Rick Ross, Ray Liotta, Scott Eastwood, Tim Allen, Sebastian Maniscalco, Offset, Cedric the Entertainer, Sugar Ray Leonard, Jeff Gordon, James Brolin, and more.
"The fun part of going into your sixth season is people know the show and they are excited to come on and talk cars, share stories and do a couple of burnouts," said Jay Leno in the CNBC press release, "I'm thrilled to see guests come back like Kelly Clarkson, Trevor Noah, and Tim Allen. We are also getting a lot of first timers like Tiffany Haddish, Mark Cuban, Offset, James Corden and more."
The "premiere episode entitled "Big Dreams," Jay starts by kicking Drew Carey's soccer dreams into high gear with a crazy game of "car soccer." Talk show icon James Corden usually steals the show, but after sampling a little of his automotive life, he tries to steal Jay's Jag! Jay and actor Gary Sinise salute a decorated veteran who's helping other vets achieve their dreams, with a little four wheeled surprise. And comedian Tammy Pescatelli may be a small-town girl with a big career... but could she be the first guest to crash a car?" according to the press release.
Don't miss the star-studded and action-packed exploration of all things automotive season 6 of "Jay Leno's Garage" premiering Thursday, September 22 on CNBC.
Photo by: Danielle Desser (NBCUniversal)