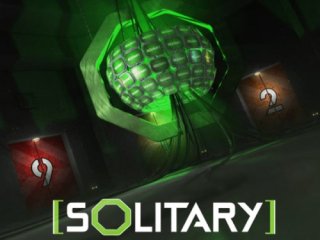 More than seven hours of racing and squatting, we're left with #2, #3, and #6 in a penalty squat position. 
#6, the Solitary veteran, earned the right to pass during any squat session after winning an earlier challenge. He skipped one to rest up. 
Unfortunately, the break didn't help as he slipped during the following penalty squat. "My body quit on me," said #6. And, he was forced to push the red button. Tyler's stay in Solitary ended for the second time.
In the final challenge, Val tested her guests memory. She flashed the names of the colors on the screen followed with a question like "Name the color that occurs exactly 19 times in any form." The guests revealed their answers by cutting a cord. These cords were colored. If they guessed wrong, a bomb would go off and they lost the challenge. But if they gave the right answer, they earned an advantage in the final treatment.  
#2 guessed incorrectly and his bomb went off. #3 didn't and she won her first challenge.  
Someone was going to be $50,000 richer by surviving the human hamster wheel treatment. For every round, the guests had to correctly solve a word puzzle. But, in order to guess a letter, they had to run three laps first.
In round one, #3 guessed correctly with the word "run." #2 found himself in a penalty round and had to run 10 laps in one minute. 
In round two, #2 boldly guessed the word "pod" without any letters on the screen. It was a smart move as #3 found herself in a penalty round. She could've passed as she had the right to pass on two penalty rounds after winning an earlier challenge. Instead, she chose to run. 
In the following rounds, #3 was on fire. She correctly guessed the word puzzles. #2 found himself in a Solitary marathon. He kept doing one penalty round after another. For the first time, we see the karate champion go from unbreakable to breakable. He was unable to complete 25 laps in two minutes, which meant he had to do ANOTHER penalty round. #2 has never quit a treatment until now. His stay ended in Solitary. 
The treatment continued with #3 correctly solving the word puzzle, which was "winner." It was then Val finally revealed to her that she's the WINNER of Solitary 4.0, the first female winner. The football player overcame with joy. You could feel her happiness penetrate through the TV screen! Congratulations Kelsey Thorn!
Read Solitary 4.0 Recaps, Solitary 4.0 Cast Interviews, News and More At The RealityWanted Solitary 4.0 Homepage.
Find me on Facebook and be sure to visit me on www.maureenfrancisco.com. 
Find more SOLITARY at not here to make friends.