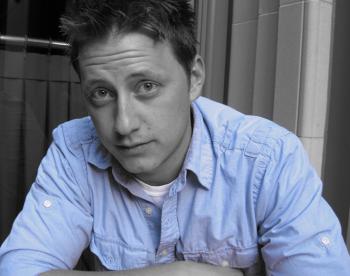 He knows Val real well. #6, Tyler Tongate, from season two, came back to see if he could walk away as Solitary 4.0's winner. RealityWanted.com speaks with him about what it's like the second time around and if given the opportunity, if he'd go back to Solitary for the third time. 
Q. Maureen, RealityWanted: Tyler, thanks for chatting with RealityWanted.com. So how, did you first learn about Solitary?
A. Tyler: The very first time I heard about Solitary 2.0, I was surfing Craigslist. And, I never saw the show. I looked it up online and read that they keep you on Solitary confinement and they make you do all these tests. Yeah, I'll be a lab rat!
Q. Maureen, RealityWanted: How did you learn about the opportunity to come back to see Val for the second time?
A. Tyler: I was walking into work one day and Leyna called me, the casting director. I thought she wanted to ask me to try out some tests for the show. Instead, she asked me if I would come back. And, I said DONE! 
Q. Maureen, RealityWanted: Why would you want to come back for more punishment? 
A. Tyler: I came just a little short the first time, and I wanted to come back for revenge. I was so close and felt like I had something to prove to be the last man standing. And, I like being confined. It's a break from normal life and an opportunity for a few people to do.
Q. Maureen, RealityWanted: Describe your experience the second time around. 
A. Tyler: I was more confident in myself. Even though I had no more experience than those specific challenges, with me being there, was already more experience. I felt like I had the upper hand, and I should've performed better. I walked those shoes before. I should win the challenges. Since I had the experience, I had to push myself to be the alpha male and the top dog. 
Q. Maureen, RealityWanted: Compare the two seasons you participated in. Which did you find harder?
A. Tyler: I made season four a lot easier for myself. In season two, I had to do every treatment. The pain was ridiculous. My body and mind felt like I was beaten down. In season four, I was wiping out the competition in every test. All in all, I like the challenges better in season two, which I thought were more intense. I felt like it was a better mixture of physical and mental challenges. 
Q. Maureen, RealityWanted: In season four with more experience under your belt, did you underestimate the other contestants?  
A. Tyler: Definitely not. I did underestimate a few in the beginning. But once I got in the top five, I knew I could be knocked down at anytime. Anyone there is capable of winning.
Q. Maureen, RealityWanted: For both seasons, your stay in Solitary ended shorter than you wanted. Did losing the second time hurt as much as the first time?
A. Tyler: Losing season two was more devastating than season four because I did every treatment. I had been beaten down mentally and physically. In season four, I was waiting for the next event to finish. I didn't go through all the pain. It still sucks both ways. Losing sucks. 
Q. Maureen, RealityWanted: Were you pleased with your performance?
A. Tyler: Yes! Absolutely. It was incredible sitting back and watching it. In the jail break challenge, it took an hour for someone else to get out, while I took fifteen minutes. I was amazed. I felt like I couldn't have performed any better. I won almost all the tests. I was on a roll. I was extremely focused. 
Q. Maureen, RealityWanted: What did you learn about your experience the second time around?
A. Tyler: I learned to believe in myself and know that I am capable of ridiculous things. The whole time I was there, I was proving to myself that I could do this. It's about doing the best you can. I kept marching. I really learned about believing in myself. 
Q. Maureen, RealityWanted: Now that you've left Solitary, what have you been up to?
A. Tyler: I still have a few months of school left and I bartend at night. I've been planning my wedding. We're getting married in Jamaica. Between school and work, I'm super swamped. 
Q. Maureen, RealityWanted: Any more reality shows in the future?
A. Tyler: I'm open. I'd like to do it again before I start my career. I want to do it for myself. I enjoy the competition. And, yes, I'd even do Solitary again.
Read Solitary 4.0 Recaps, Solitary 4.0 Cast Interviews, News and More At The RealityWanted Solitary 4.0 Homepage.
Find me on Facebook and be sure to visit me on www.maureenfrancisco.com. 
Find more SOLITARY at not here to make friends.