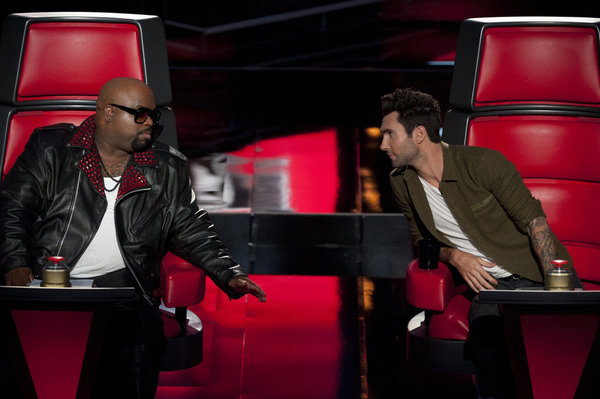 By Zachary Rowell

The Voice is having a great a second season. They're experiencing stellar ratings and a rapidly growing fan base. The Voice is also giving American Idol a run for its money and beating Idol in the ratings! Rating should also increase once the battle rounds start next Monday! "The Voice"  fans will tell you that this is their favorite part of the show and NBC was nice enough to give fans a video sneak peek! (View The Voice sneak peek Battle round below)
Cheesa and Angie Johnson can be seen battling it out in the video. They're performing Bonnie Tyler's 'Total Eclipse of the Heart' and they aren't holding anything back! It looks like they put together one heck of a performance; we certainly wouldn't want to be Cee Lo Green right now. Can you imagine trying to pick between those two?
Executive Producer Mark Burnett understands the pressure, "The pressure for the coaches is enormous. What they're doing now is they're taking their 12 members of their team and narrowing them down to six for the live shows." he told The Hollywood Reporter.
He also liked Cee Lo's song choice, "What a great, great version of that song! I've always loved that song. I thought it was a great, great choice that Cee Lo makes in that battle." Burnett said. You can catch Cheesa and Angie Johnson battling it out on Monday, March 5 at 8 p.m. ET on NBC.
'The Voice' Video Sneak Peek of the Battle Round

(photo courtesy NBC)
Read up on all the latest THE VOICE Recaps and cast Interviews HERE

Latest NBC "THE VOICE" news

The Voice Season 2: Week 4 Conference Call With Team Adam and Team Blake
The Voice Season 2: Week 4 Conference Call With Team Christina and Team Cee Lo
The Voice Season 2: Week 3 Conference Call With Team Christina and Team Cee Lo