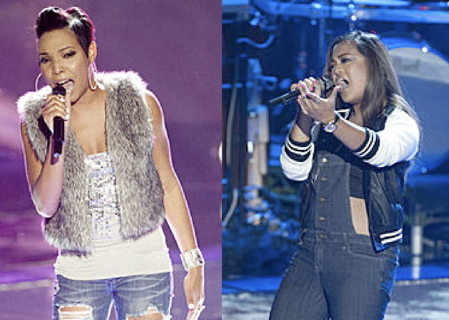 by Todd Betzold
Last night was it for the coaches on The Voice...they had to fill the remaining spots on their teams. Team Christina added Sera Hill and Lee Koch and Team Cee Lo added Tristan and Rory Shields of The Shields Brothers, Cheesa and WADE. They all got together today for a conference call to talk about their journey so far on The Voice.
Q. How was it to have Christina join you on stage after joining her team and she sings with you?
A. Sera: I just want to say that was unbelievable and she's my idol and she's an icon and I wasn't expecting it. I was just trying to not trip or fall and trying to hit the notes right and Christina singing with me was just an added bonus and it was just surreal...so very, very surreal...my dreams came true. It was a dream come true, absolutely.
Q. You are getting recognized on Twitter, including by celebrities. How does that make you feel to have a new fan base?
A. Rory: It's incredible...we've never had such an impact...before this we had like no Twitter followers and within an hour we had 1,000.
Tristan: I think America loves rock and roll, which is why they loved getting punched in the face with it last night by us...they didn't know what they knew.
Q. What was it like to be the last artist to get on Christina's team?
A. Sera: I was actually hoping I would get a chance to audition. I was one of the very last people to audition and I was like oh gosh, what if all the teams are full and no one picks me, so the fact that Christina turned around...it was just amazing. It just helps me bring back the real soul, the real music I've always loved and she's the best role model for that.
Q. Were you aware that only Christina could pick you and the other three coaches' teams were full?
A. Sera: I had no idea...I went up there literally blind. I was just hoping somebody would turn around...I didn't know who it was gonna be.
Q. How does it feel to represent the 808 on The Voice with Team Hawaii?
A. Cheesa: Oh, it feels great. I moved here five years ago and to finally represent my hometown it's definitely been a long time coming. I'm definitely happy about it.
Q. Growing up in Hawaii and the Polynesian culture, how do you think you can implement that into your competition with The Voice?
A. Cheesa: Hawaii is very supportive, in terms of supporting other artists, so I'd love to show our aloha spirit and our love toward anybody.
Q. Did you know that they only had a few spots left or did you not know? Did that make you more nervous? Did it affect you?
A. Lee: There's a few days of auditioning and when we are told we are going to be on one of the later days, I think we kind of assume it's going to be down to the wire. We don't know how many spots are left...there could be one, there could be five, but we know naturally there are only going to be a few left. I think it is a little bit more nerve-wracking for the people who have to go towards the end, but that's the only way it can work, so it's how the cards are dealt.
Q. After seeing last season and this season's competition, where do you guys fit in and where does rock fit into this competition?
A. Rory: We feel it's incredible we got the chance to even be on the show. We feel like we're punks that snuck in the back somehow and broken into the show. It doesn't make any sense...it's not even for our genre of music. It's just been incredible.
Q. What were you thinking when it took so long for you to get a reaction? And your style is so different from Christina's, so what are you anticipating getting out of the collaboration?
A. Lee: You know, I was getting a little nervous as it was coming down to the final seconds of my song and when she did hit her button it was definitely a shock, little bit surreal. I didn't realize I pointed to her until I saw it last night. I thought I just kept playing and didn't realize she turned around. It was a shock, but it was great. I'm thrilled to work with Christina...I know it's an odd matchup, but I think that makes for more entertaining viewing. She does some bluesy kind of stuff, I do some bluesy kind of stuff...I think we can find a middle ground and do some sweet stuff.
Q. What was running through your mind when you were singing on stage?
A. WADE: I tried not focusing on the chairs and look into the audience, but it's hard not to think. In those first couple of seconds of the performance I was like, come on, someone turn around and then finally when Cee Lo pushed his button it was that internal sigh of relief that made things a lot easier.
Sera: I was thinking this is a once in a lifetime opportunity and I was just trying not to fall in those heels (laughs).
Cheesa: It was so close to the end of my song, I really was preparing my speech to say thank you for listening and I'm really glad that Cee Lo turned around in the last minute...such a blessing.
Q. With the battle rounds coming up, how are you feeling about them?
A. Cheesa: I'm definitely excited..."If I Were A Boy" was an okay performance, on my part, and I'm just ready to kill it with the battle rounds and show and prove I deserve to be here.
The Voice airs Mondays at 8/7c on NBC.
(Image courtesy of NBC)
Follow Todd @tbetzold