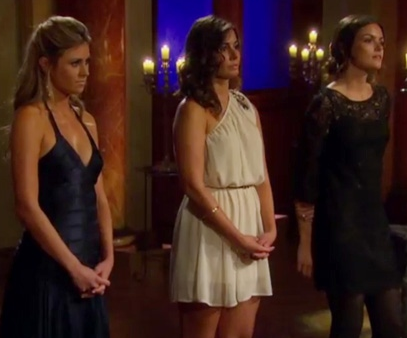 by Gina Scarpa
It's getting close to decision time on The Bachelor. Soon, Ben will get down on one knee and propose to a woman who hopefully, says yes. With Chris touting the finale as "the most controversial ever", I have a feeling we're not heading towards a fairy tale ending. But more on that in two weeks...
We're off to Switzerland where Ben and Nicki travel via his favorite way of getting anywhere, a helicopter. They take a tour of the Alps as Ben throws out clichés like "our relationship is reaching new heights" and "relationships are a wild ride". They land on top of a mountain with a breathtaking view, and she talks about how much she felt he fit with her family. Is it bad that I don't remember the bond that they supposedly formed? Over dinner, he hands her the fantasy suite card and she accepts, feeling that the connection is there and that things are right.
The next date is with Lindzi and feeling that she's the adventurous type, he plans a little trip repelling 300 feet off a cliff. There should probably be more to this relationship than clinging to each other in dangerous situations but who am I to judge? Afterwards, they hit up a hot tub (luckily, a different one that he was in the night before with Nicki in the fantasy suite) and says that the ice queen is melting. That conversation is further explored over dinner, where she admits that she was defensive in the beginning because she didn't want to look stupid or be hurt. Now, she's no longer afraid and she reveals that she likes him and is falling in love with him. She wants that proposal in the end and agrees to head off to the fantasy suite.
Last up is Courtney and the two have the only realistic date of the evening. The pair take a beautiful train ride through Switzerland and enjoy a picnic in the countryside. She apologizes for the way the she treated the other girls but before accepting it, he tells her that what she did was pretty messed up. That condescending, "I know more about life than you do", voice comes out in full effect but Courtney continues to try to reassure him over dinner. When she says she wants a life with him, all is forgotten, and come on. You know she accepted the invitation to the fantasy suite!
Before the rose ceremony, Kacie B shows up to surprise Ben and confront him on being eliminated. After visiting her hometown, he felt that they came from two different worlds and he didn't see her making it to the end. While she tries to explain that what makes her family happy doesn't necessarily make her happy, and warn him once again about Courtney, he becomes cold and closed off. Hmm, where have I seen this before? Oh yes, last season with Ashley, this season with Emily, and so on...
She leaves without the outcome that she hoped for and lies down on the hallway floor in the hotel before picking herself and heading home. Chris Harrison later asks Ben if he wants her at the ceremony, but he does not.
In the end, roses are handed to Lindzi and Courtney. So much for Nicki, the only one that seemed to have a real shot at a genuine relationship with Ben. But Ben isn't interested in genuine. He's interested in Courtney.
Next week, The Women Tell All special airs and I expect things to get pretty crazy!
What did you think of watching Emily prepare to become The Bachelorette?

The Bachelor airs Mondays at 8/7c on ABC.
(Image courtesy of ABC)

Follow Gina @ginascarpa and "Like" her on Facebook!