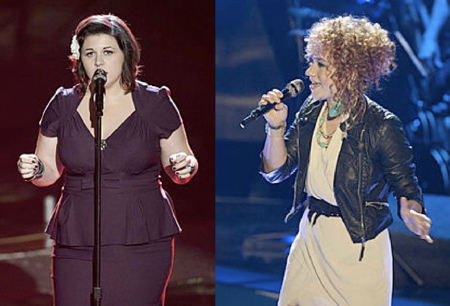 by Todd Betzold
The coaches put the finishing touches on their teams last night on The Voice. As tough as they were on the contestants, Team Blake added Adley Stump and Lex Land and Team Adam Orlando Napier and Whitney Myer. They all got together today for a conference call to talk about their journey so far on The Voice.
Q. Can you talk about how Adam's style and success fits with who you are musically?
A. Whitney: I feel he straddles more than one genre, which I like to think I do as well, so that was part of my reason for choosing him. I feel he has soul influences as well as rock and pop and I feel I have similar qualities as an artist.
Q. You said you started singing just 10 months prior to the auditions and your bio says you moved to Nashville, so it must have progressed rather quickly?
A. Adley: Yes, the last ten months...I've been in Nashville for about 8 ½ months...I got an offer to move here with an artist development deal, publishing and smaller record deal from a private company about a month before I graduated. At that time, I had been singing for about 8-9 months...I started to take it seriously my senior year of college, but never thought I could do it.
Q. Going into the blind auditions, did you have a team preference?
A. Lex: I did, actually, want to be on Blake Shelton's team. I thought he was a really great coach last year and I felt that, regardless of the outcome of the show, if any coach was going to continue to support or mentor me with whatever happened it was probably going to be him, so I was thrilled when he turned around. In the heat of the moment I wasn't really sure who I was going to choose, but I ended up sticking with my initial feeling and I'm really glad that I did.
Q. You had said Adam felt very genuine to you and how he sold it. Prior to going in, did you have a preference of any coach, since you had all four to select from?
A. Whitney: Going into it, I did have a couple coaches in my mind...I was kind of going back and forth between Cee Lo and Adam and I definitely didn't expect to have such a variety of choices, but in the end Adam really sold it and he seemed genuine and I felt the couple minutes of communication we had was really good...I really got a good feel for him. The genuine thing was really important to me. I wanted to relate to my coach, not that Cee Lo was in-genuine but I just felt I connected quicker with Adam and what he was saying.
Q. You guys auditioned later in the process when there were fewer slots available. Were you aware of that and the pressure?
A. Lex: We were not aware of how the teams were filling up or when we would be auditioning, so we really didn't have any ideas of anything like that.
Q. On the show you said you were having a lot of anxiety. Where was that coming from and what was it like for you?
A. Lex: It's been a little bit strange, because I am normally not nervous and I remember, of course I get butterflies anytime before I perform, but being nervous on stage is really foreign to me. Honestly, that day it felt the same. I had butterflies and once I got on stage I felt totally fine. I think that it's a really nerve-wracking situation, but when I started singing and the coaches turned it was less nervousness and more being emotionally overwhelmed...I was just so happy and relieved I had made it through that it was really hard for me to obtain my physical composure at that point. So, there were definitely nerves involved, absolutely, but it was just one of those things that came out of the blue and smacked me in the face.
Q. What was it that made you find your passion for music? And what was it about The Voice that made you feel you were ready to try out for it?
A. Adley: Sadly, music has always been a driving force in my life and this was a completely unknown gift to me that I had...completely unknown talent. Music has always been a huge part of my life...never did I dream big enough that I could give it back. My whole life I was doing choreography for my sorority...they basically dared me to try out for this solo part for this show I was choreographing. I did it and I think everyone was shocked with how I sounded...I was kind of shocked with how it sounded and they had given me the part and I went on to win an award...I went across Oklahoma with it and I felt like this torch had been lit in my heart that I needed to just go start a wild fire with...I've been a performer my whole life, but I've never let myself sing except goof around in the shower, but then the encouragement my friends and my sorority sisters led me to start playing in that saloon and I couldn't stop.
Q. We heard that you performed with your Dad and uncle prior to the show. How did that experience help you for the show?
A. Whitney: Performing with my Dad and uncle helped molding me into who I am and has given me the confidence to do what I do and this was the first time that I really stepped away from that by myself and it was a huge growing experience for me to do that and not have them behind me. I've played with my Dad since I was 14 and with my uncle since I was 16, so it's given me the confidence to go out there and have a level of professionalism...gave me the strength to go out there and sing in front of those megastars.
The Voice airs Mondays at 8/7c on NBC.
(Image courtesy of NBC)
Follow Todd @tbetzold