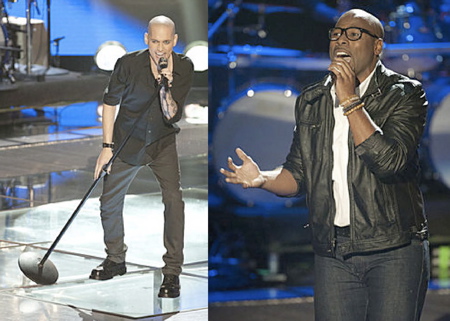 by Todd Betzold
On next week's episode of The Voice, the coaches will complete their teams of 12 acts. Because it is getting down to the nitty gritty, the coaches were a lot harder to please last night, but we did see some great additions. Tony Vincent, Jamie Lono and Justin Hopkins joined Team Cee Lo and Jonathas, Monique Benabou, Anthony Evans and Ashley De La Rosa joined Team Christina. They all got together today for a conference call with reporters to talk about their journey so far on The Voice.
Q. Could you talk about your song selection you chose to perform on the show?
A. Anthony: There are a lot things that go into a song choice on a show this large, especially when there's that many people. So, The Voice is very interested in who we are as artists, so they ask us. There are a lot of things behind the scenes, like clearance and making sure we can do the song on television, so they really ask us who we are as artists and help us make the decision...to make sure we were doing what was legally right, but The Voice wanted us to be who we are as artists. So, that's how we decided...we narrowed it down with the producers of the show make sure we are putting our best foot forward in repping who we are as artists.
Q. What's it like being noticed by fans now and especially celebrity fans?
A. Jamie: It's definitely weird...I mean, I'm not on Jeremy Lin status, but it's definitely really cool and I couldn't ask for more support from my hometown and the people watching at Roly's. It's really cool and I'm very grateful.
Q. Where do you think Christina can take you musically as a country artist that Blake may not have?
A. Monique: She can open a lot of different avenues for me...she's worked with some of the best songwriters and producers over her career and really mix different genres...I identify with that kind of nomadic style...very soulful, powerhouse kind of voice. We have that in common and we both like to experiment in the different kind of genres and styles in the records we produce.
Q. To make it all the way, how will you have to adapt your style to fit The Voice, as compared to the stage?
A. Tony: I think I have been fortunate enough to be able to be involved in stage productions that really don't skew towards a standard theatrical type of avenue. It's not like I would ever be cast in a "My Fair Lady." Being able to sing rock and roll songs like Green Day and Queen on a stage actually I think it's going to be a lot easier than people initially suspect. I also feel really blessed to be involved with Cee Lo because I think what he does as an artist is very theatrical. His records are incredibly deep sonically and his huge sound escapes that you're impressed every time you hear it, a song, even if you are hearing it multiple times...it's something new and interesting and as an artist that is something I strive to be.
Q. Can you talk about the experience so far and what it means to be on Team Christina?
A. Ashley: So far the experience has been incredible. Right now, I'm actually in school, so they are allowing me to miss class at this moment to take this call. As far as my school, my friends, they're all real supportive, but it's kind of strange with all newfound fans, but I'm very appreciative and grateful for all this. It's been an incredible experience, especially being able to work with some as incredible as Christina. I couldn't have asked for anyone better.
Q. I wanna get a feel for when you started singing and how? Also, when did you know this would be what guided you through life?
A. Monique: I started singing when I was three years old. My parents couldn't afford any vocal instruction...I was always singing and always loud. I really got into my voice when I hit high school. I kinda dabbled in talent shows, musical theater and stuff like that. In my junior year I realized that this was going to be the only thing that would satisfy me in life. I dropped out of high school, for other reasons, but it was clear with what I wanted to do. So, I took my GED and started taking music classes in college and moved up to Los Angeles to pursue that about four years ago.
Q. What sparked your desire to go on The Voice in the first place? Have you ever tried out for a show like this before?
A. Anthony: It is the first time I have done something like this and what sparked my interest initially was a friend of mine in the industry that I am in right now was sitting at my house and he said there is this new show and you need to go try it. So, he initially sparked my interest and as I started spending time at The Voice then the spark got lit inside of me because I realized that this show is not a joke...it's no gimmick, like they're looking for the real thing. I mean, they love our stories, but it is not primarily about our stories, it's about our voice. I've worked on my craft, so that is something that got me interested in something like this.
Q. You've released your solo album and have had success onstage, so what made you want to audition for the big, reality singing competition like The Voice?
A. Tony: For years and one of the reasons why I moved to New York was to continue my recording career...that's why I did right out of college and signed a contract with EMI and I got an opportunity to audition for Rent and that set me on to a rock theater trajectory. For the past five years, I have had this desire to be back in the studio, solely focusing on my own music again. Broadway has been a blessing and I'm sure there will be a point in my career where I'll come back, but I figured with the exposure of a vehicle like The Voice is and a highbrow show like this, there would be no downside.
Q. How did you go about choosing the Johnny Cash song?
A. Jamie: The way I go about music, there is only one type of music...that's good music. Whenever I hear songs that I like, no matter where I hear it, I try to take it in and try to understand it and get to know the song and make it my own rendition. It's such a great song, it's hard to not make it even better.
The Voice airs Mondays at 8/7c on NBC.
(Image courtesy of NBC)
Follow Todd @tbetzold