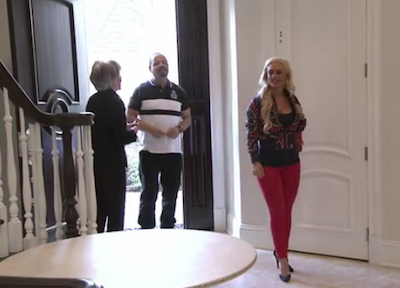 by Gina Scarpa
I thought my closet needed cleaning but that's before I saw Coco's on this episode of Ice Loves Coco! The clothes are literally spilling out into the hallway of their New Jersey penthouse. Coco's solution? Get a new house. For your clothes?! She wants a garage, closet space, a baby room, a guest room, the list goes on and Ice must be seeing his bank account getting smaller and smaller.
The first house they look at is QUITE a step up from their penthouse - it's 6 bedrooms and 13,000 square feet! Ice didn't seem too sold on it until he saw the full basketball court in the garage. When Coco sees a chandelier in the closet, she's convinced that that's the house they need to buy. I think a little more thought is going to need to go into this decision and Ice finally convinces her that two people don't need that much space.
Coco's friend from back home, Kyle, is in town and Soulgee can't help but get a little jealous. It doesn't help that Kyle just throws out his opinion when Soulgee didn't ask for it. The man is trying to work here!
The next house Ice and Coco visit is a little smaller, about $6 million worth, but Coco isn't feeling it especially when she sees the closet. Between that and the lack of yard space for Spartacus, this is definitely not going to work.
The rivalry between Soulgee and Kyle is getting ridiculous. They even need to dance better than the other out while out at the club. These boys are going to need to learn to get along because it's looking more and more like Kyle is going to make the move from Albuquerque to New York.
Coco has a realtor friend who has a house that hasn't even been listed yet. When they show up to look at it, it's a construction site but they like that they can make the house into what they want. I think they found their dream home!

Ice Loves Coco airs Sundays at 10:30/9:30c on E!
(Image courtesy of E!)

Follow Gina @ginascarpa and "Like" her on Facebook!