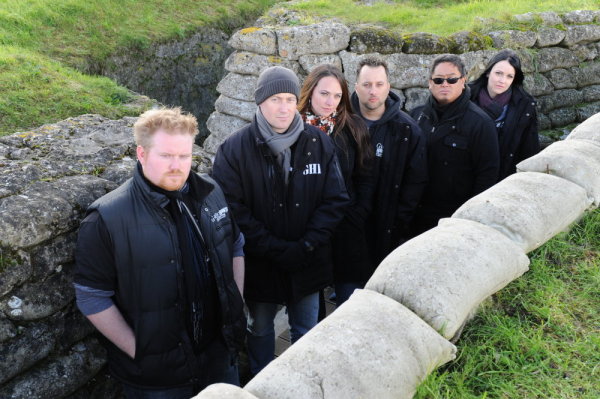 by Chad Alan

"The Man in the Iron Mask: Italy"
Fort of Fenestrelle - Turin, Italy
The Fort of Fenestrelle looks every bit its age of 300 years.  It sprawls along a mountain side and was originally built to defend against France.  Yes, France actually did like to fight at one time just like us.  It was used as a political prison for many years and it is said that 10,000 people died while there.  It may be most famous for holding "The Man with the Iron Mask" as a prisoner.  Till this day, nobody knows who this famous prisoner was but there is a ghost that is being seen who has a waxy white face and red eyes and some believe it is him.  Footsteps, the sound of marching feet, screams, moaning, voices and strange conversations are heard by the caretakers, mostly at night when all visitors have left.  Items in the fort shake and rattle from time to time.  People have also been reported being touched; even believing they see a grey hand suspended in the air after their experience. 
Team co-leaders, Kris Williams and Barry FitzGerald, started their investigation in the chapel where shadows are being reported.  A very strange sound jumped out at Barry while he was standing near a small crawl space that made him violently jump out of the way.  While investigating the basement of the chapel, a table started to rattle, something the caretakers experience.  Next stop was "The Man in the Iron Masks" prison cell where shadows and disembodied voices have scared the workers. They did begin hearing voices and tried to track where they were coming from but could not pinpoint a spot, as if whatever was trying to communicate with them was moving away from them.  They would also experience hearing voices in the upper fortress area along with a growl.  Barry tried to provoke the spirits of the fort by raising a French flag and playing the French national anthem while pointing their cameras at the soldiers' barracks.  As clear as day, their camera caught a shadow figure walk along a wall of the barracks, a really nice video catch. 
Joe Chin and Scott Tepperman did their investigating in one area of the long staircase which is used to navigate up and down the fortress.  Loud growls made both of them stop in their tracks.  They headed to what is called the "Officers Prison" and tried to get the attention of "The Man in the Iron Mask."  Something touched Joe's hand and this was followed by voices is the distance, something both Kris and Barry had also experienced in that same area. 
Susan Slaughter and Paul Bradford started out in the upper area of the fortress where shadow figures are seen and screaming is heard.  A strange noise, audible to the viewers as well, came out of nowhere.  Not long after this Paul noticed something standing behind Susan, and she was just about to say she heard something behind her as well.  Three stones were thrown in Susan's direction and she was visibly startled, as I think we all would be.  They were left speechless when they left the area.  This activity was caught on their video recorder.
Barry believed the Fort of Fenestrelle was haunted but they would leave without finding out the identity of The Man in the Iron Mask. 
Ghost Hunters airs Wednesdays at 9/8c on Syfy. 
Check out the archive of past show recaps here!
(Image courtesy of Syfy)
Contact Chad Alan at [email protected]