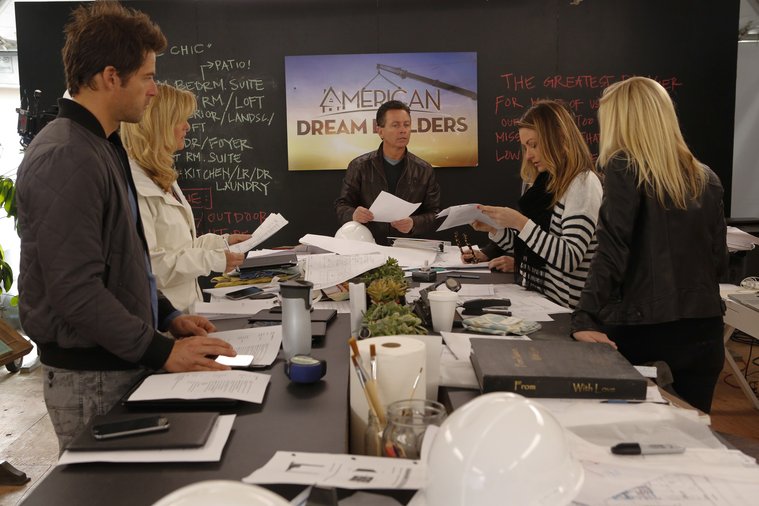 By Ashley Thompson
19 homes, 147 rooms and 2.6 million dollars in increased value later, Lukas the designer and Jay the builder go head to head in this weeks season finale. We find them in Ventura CA each taking on at the renovation of a beach home in the hopes of winning the grand prize of $250,000 and the title of American Dream Builder... with a little help from the 10 designers already eliminated from the competition.
The first gut-wrencher to go down this episode is the coin flip which started the dodgeball team style picking of teams.
Team Lukas: Nina, Elaine, Melissa, Andrew and Tarik - Lukas plans to design the entire house by himself from top to bottom and everyone else is there to implement his ideas. He is planning on a proper dining room, adding an additional bedroom and building special projects.
Team Jay (guest bedroom): Erinn (living room/dining room), Nancy (kids br/loft), Dan (2nd floor family room), Christina (kitchen) and Darren (loft/outdoor living area) - Jay is going coastal with European flare by bringing outdoor living indoors, opening up the living and dining rooms to the kitchen, and dividing the loft area to create a master suite.
Gut-wrencher number two - Lukas' decision to paint a beach house black... against all of his teams strong aversions. DON'T DO IT, LUKAS!!! Ugh, he did it and it looks like it's been through a fire (by the way, during the reveal we hear "Oh my God it's black" in not such a great tone). Also, Lukas admits to stealing Nina as a distraction to Jay. Sabotage in Ventura!
Gut-wrencher number three - Darren has a family emergency and has to leave Team Jay. How will Jay finish all the projects and on time? And what was Darren's emergency? Don't worry, he comes back, but the reason is still a mystery.
Gut-wrencher number four - Southwest Airlines flew both Jay and Lukas' families in to see the final homes completed.
Gut-wrencher number five - the neighborhood counsel's decisions will considered but their vote will not be counted. Instead, the three judges will make the final decision on their own.
And the final gut-wrencher of all... with the judges perception being, "I don't think Jay took it far enough, but I think Lukas took it too far. I don't know what's going to happen." -Nate Berkus
THE AMERICAN DREAM BUILDER IS............. LUKAS!!!
*I would like to add that I do not agree. Yes, Lukas is a visionary. But Jay has gone from builder to builder/designer and his designs are actually functional. Either way, good job, gentlemen!
You can see all the designs from the entire season at their Pinterest page or get a glimpse on twitter at @NBCDreamBuilder or @Lowes #dreambuilders.
Photo courtesy of Vivian Zink/ NBC