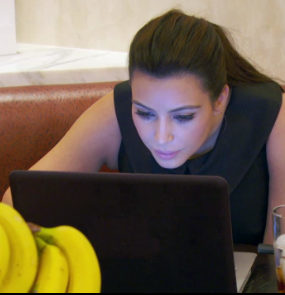 by Jessica Blackwell
Khloé admitted she and Lamar have been trying to get pregnant since they were married and given the facet that they've been married for nearly three years, I'd say it hasn't been going well. Kourtney felt really bad that she's poppin them out left and right and Khloé is clearly struggling to get even one bun in her oven. When Roya, the director of DASH stores, suggested that Kourtney carry a baby for Khloé, it got her to thinking. She brought the topic up to Scott to see if he would be down with it, and at first he freaked out. Then after a conversation with a sympathetic Khloé, who was feeling bad that Lamar was grieving the would be birthday of his son who died at 6 months, he changed his mind. Since Scott was on board and she already consulted with a doctor, she let Kourtney know her womb was willing and waiting! Khloé didn't think she was there yet (I think she is) but she thanked Kourt for the thought. 
Since Scott and Kourtney skulk around the house as if the other doesn't exist, Kim decided have Scott followed continuing with her detective bull shiz.  She witnessed Scott turning Kourt down when she asked him on a date night and he seemed to be reverting back to his old ways. He was jetting to to Vegas every chance he got, drinking, and sleeping until late afternoon. She hired the PI Jake that she worked on the kidnapping case with, and arranged for him to tail Scott and track his behavior. 
Before long, she was sneaking around, acting bat sh*t crazy and putting a GPS tracker on Scott's car. It appeared that Scott was just doing his typical stuff and hanging around with his friend Chapman, but when Kim met with Jake to discuss his findings, something made her jaw drop. Then of course, it cut out until next time!! Augghhhh! I want to know what Scott has done this time! 
Next week Kourtney finds out that Kim hired a PI and throws her out of the house and Kim admits she's pregnant. I thought something was off with the way she was stuffing her face! Stay tuned! 
Kourtney and Kim take Miami airs Sundays at 9/8c on E! 
(Image courtesy of E!)