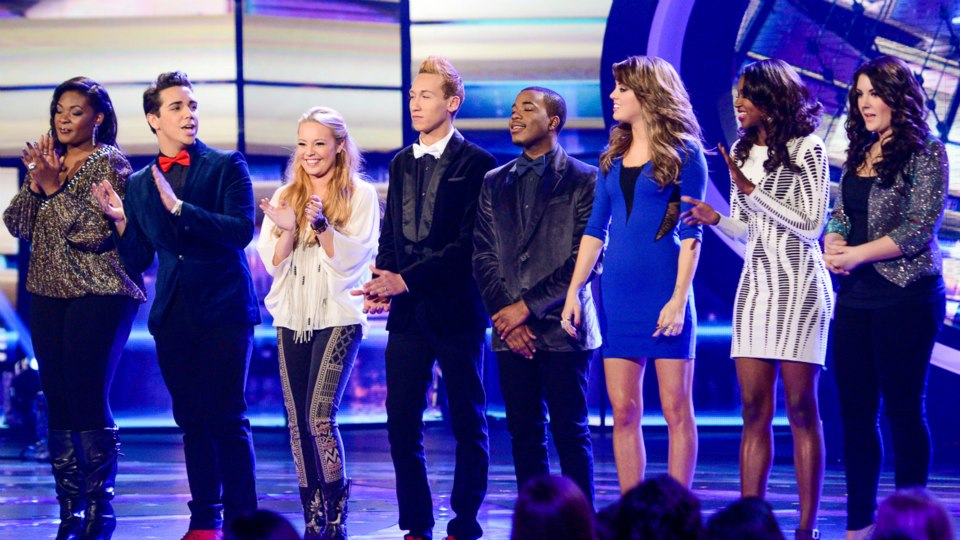 by Kylene Hamulak
450. That's how many episodes of American Idol we've had. Tonight's will bring back two former Idols, a Ford Fiesta Mission, and our Top 8...which will be Top 7 by the end of the hour.
Old Time Rock 'n Roll: The Top 8 group performance takes on the Bob Seeger classic, which everyone (admit it, even you) has sung loudly (and badly) at some point in their lives, right? Singing loudly and badly tonight? The guys. The girls aren't bad, but wow...Idol has done a good job stacking this season up for a girl's win! Keith is singing along...if only his mic was live!
Ford Fiesta Mission: This year, Ford is sending the Idols on missions. Tonight, they're on a mission to give the gift of song by mentoring kids at an elementary school. It's a really cute segment, and I gotta tell ya - those kids weren't half bad singing Phillip Phillip's "Home"! Janelle shares how all the Idols felt about their chance to pay it forward, realizing they're not just on a show, but given an opportunity too.
Jimmy's Recap: Candice is a natural, and Jimmy predicts she'll make it to the finals.  He agrees that Lazaro did better, but still thinks he needs to listen to someone's advice. He says that Janelle brought the house down with her solo and suggests that, if she does an album, this cover needs to be on it. Devin was good, but not as good as everyone else. Jimmy loved Burnell as well, but as for Angie? "The whole package was wrong." Unlike Amber, who he says did everything he and Smokey asked her to do. He boldly predicts Amber will NOT be in the Bottom 3. Kree is praised too, and he thinks she could make it to the finals.
Message from the Queen of Soul: Aretha Franklin called in with a message for Kree - she loved the performance and doesn't think Kree is going anywhere. Kree is super excited about it, and I'm excited for her.
Idol Meets Idol: Colton Dixon is back to perform "Love Has Come For Me." He's made quite a name for himself in Christian rock since his time on Idol last year! After the performance, he talks to Ryan about Angie's cover of his song, saying she killed it. The two finally meet with a hug. I mean, it's not quite Aretha Franklin, but it's cool for Angie.
Smashed It: One Republic, performing with Katharine McPhee, fills up the next few minutes with "If I Love Myself". Kat takes the second verse, but I'm so used to seeing her being angsty on Smash that I expect Jeremy Jordan to come in and start breaking things on stage at any second. Is she wearing a leather belly shirt? Is it 1999 again already?
Showing the Guys How It's Done: Apparently Keith's sing along with the group to open the show was just a warm up for "Long Hot Summer." He performs what will be one of my summer anthems if winter ever surrenders its icy grip, and he's terrific. I'm not a country fan, but I'm really starting to get it. So is Mariah. She spent the entire performance making a "#1 Keith Fan" sign for him.
The Wait Is Over: It's 45 minutes into the episode, and just now are we learning any of tonight's results.  Kree is the first to be declared safe - well, sure, cause who would dare mess with her after Aretha anointed her for the night? Candice is named next, followed by Janelle. Ryan says they're in no particular order, but for the record? That was my top three! Angie and Amber quickly follow.
Boys Club: As predicted, the Bottom 3 is made up of all the guys, and rightfully so. Last night's trio performance alone should've sent the whole group of them home. And if not that, Lazaro's gold bow tie, suspenders, and feathery artwork on his shirt should be enough to put him in danger. Maybe it does, cause Burnell is the one who gets sent to safety, leaving Lazaro and Devin. Ryan hands the mic to Devin - he has the lowest number of votes.
Impossible: Devin chooses to sing "It's Impossible". I'd like to know who, in the graphics department, decided putting him underwater was the best choice. He, as expected, does a great job with the song (including the Spanish half), but when he sings "It's just impossible..." you know he knows what we know.
It's impossible to think they'd use that save on anyone who isn't a girl.
It's not unanimous, but Devin Velez is eliminated, despite mad chanting from the crowd.
Final Thoughts: No surprises tonight. As the weeks tick by, we get closer and closer to the inevitable shock boot, but this wasn't it.
Catch American Idol every Wednesday and Thursday at 8/7C on Fox!
(Images courtesy of Fox)
Follow Kylene on Twitter @keepingupwithky!