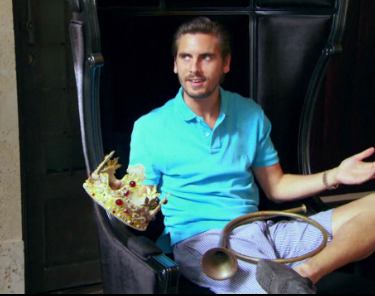 by Jessica Blackwell
Khloè (my favorite) returned to Miami but as soon as she found out she got the hosting job on Ex-Factor, she had to jump right back on a plane to start her new gig. As excited as she was to get the job, it proved to be harder than she ever imagined. She was having trouble adjusting to the stresses of live television, her makeup artist didn't show up right before the first show, and none of her family was there. She finally made it on stage, only to find out that you could see the outline of her nipples through her shirt. ON LIVE TV! Poor Khloè! When her family showed up to her next taping, she did much better, despite almost having another slight wardrobe malfunction. 
The ladies headed to London to launch the Kardashian Kollection and Scott decided he needed some alone time, so he chose to stay behind.  He used the opportunity to invite his friend down from New York and introduce Miami to Lord Disick. He threw a medieval extravaganza complete with costumes from that era, a throne for him to rest his royal booty on, and lots of food and booze. Although his party was a hit,  Scott realized he didn't have much to do and started to miss his baby mama and kids, so he flew to London to be with them. 
The entire episode, Kim and Kourtney were embroiled in this unhealthy competition battle. It started off innocently enough, when they were bickering about who can pack a bag better, or whose car would get to the airport faster, but then it took a hazardous turn. They decided they had to know whose lady parts smelled better, so they made Khloè sniff a paper towel with their secretions on it. Gross!! 
Next week, Kim deals with scrutiny from the press now that she's the girlfriend of a famous rapper. Stay tuned! 
Kourtney and Kim take Miami airs Sundays at 9/8c on E! 
(Image courtesy of E!)