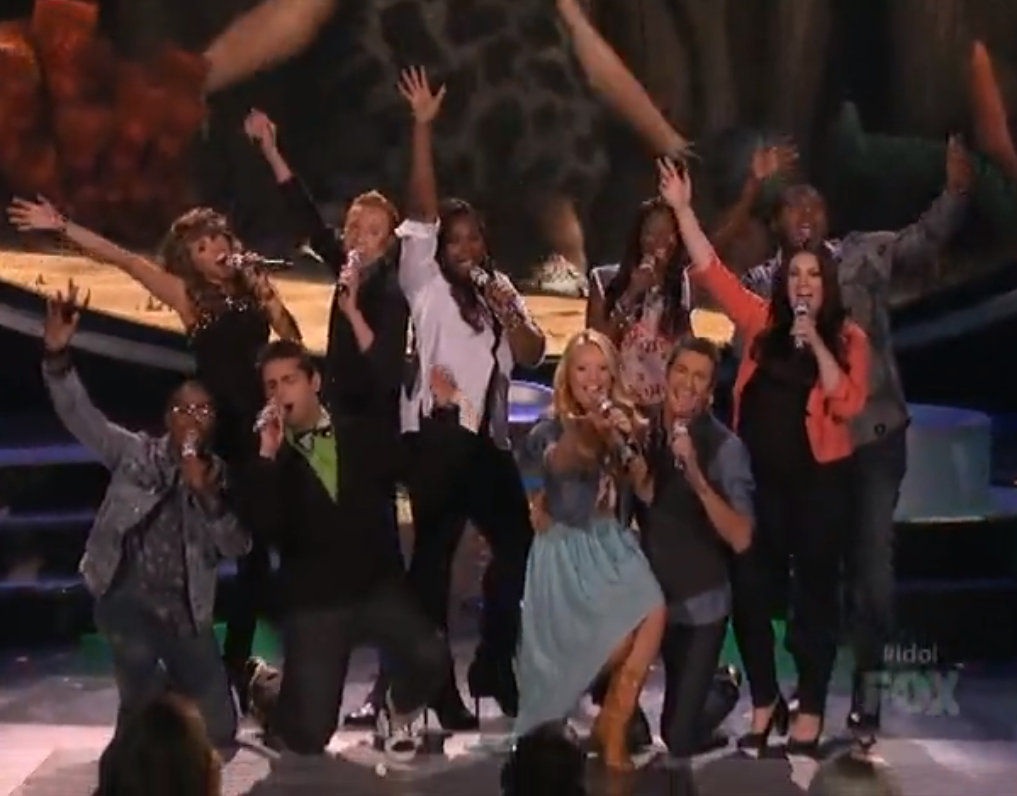 by Kylene Hamulak
As with all American Idol results shows, tonight is (supposedly) packed with drama, suspense, and surprises. We've got Bon Jovi, we've got Phillip Phillips, we've got a sing-off and....oh, right, we've got someone going home too.
Jimmy recaps the previous night's performances, saying what we've been saying all along: the girls are totally out singing the guys.  No kidding.  Here are the highlights from tonight's Results Show!
What We Learned From Results: Your friends and family will vote for you. Usually.
Devin received 25% of the Puerto Rican vote. There's a shocker, considering he's the only one who ever sang to them. Janelle was in first place in her home state of Tennessee with more than 30% of the vote. Candice took 42% of the votes in her state of South Carolina. She's not only safe, but also in the TOP THREE.                                                                                         
Shine Your Way: Owl City's original song from The Croods is the first cheesetastic group number of Season 12, featuring the Top 10 and cutaways to movie clips. There are moments it's hard for me to distinguish between the cartoon and our Idols. They don't sound bad but it's the kind of song I'd expect to hear watching costumed characters parade down a street at Universal Studios. And then? POINTY POSE!
Good Night: Kree gets a key from the mayor of her town, Woodville, TX and is in the Top 3. Just like that. No dramatic lighting, no scary music, no "after the break." Just...here ya go.
He's No Jennifer Lawrence: Ryan takes a trip down the stairs and recovers straight into the lap of Sue Sylvester. Heh. Straight.
Special Guests: Bon Jovi performs the single "Because We Can." Unless we get a Bon Jovi theme next week, the band is here for seemingly no reason. When asked why they were performing on Idol this week, Bon Jovi responded, "Because We Can."
The Sing Off: Someone thought it would be a great idea to bring back the 6th Place guy and girl to sing off for spot on the tour. Because if there's one thing the Idol tour needs, it's ANOTHER reason for us to get snacks while we wait for the winner and runners up to come out on stage.
Charlie Askew performs "Sky Blue Diamond," an original ballad sung at a white piano. Charlie reminds me why I really liked him the first time I saw him. You know, before he got all "AWKWARD TURTLES!" and angry. Reminds. Not regains. His voice is lovely, but homeboy makes me nervous.
I'm disappointed that they've chosen Aubrey Cleland over a couple of the other girls, but she's still beautiful. And watching her perform "On My Own" still feels like watching a pageant. Give the girl a sash and crown instead of a paid vacation around the nation.
Honestly? Is there a choice to pick neither of them? Is it really necessary to make one of them lose AGAIN?
Home - Phillip Phillips in all his DMB glory performing "Gone Gone Gone" makes me think about how much things will change in the next two months, as the ten strangers awaiting their Idol fates become the names we all recognized...and then forget by August. Say what you want about the White Guy With Guitar curse of Idol, but Phillip is a great artist, and I don't think he's all that different than the guy who stood on this very stage a year ago.
Never Trust the Florida Vote: Angie received 17% of the Florida vote, but Lazaro beat her in their home state. Lazaro apologizes to her, but no worries - the rest of the country voted for her. She fills out the Top 3 with Candice and Kree.
Sprint to the Finish: Borrowing from other reality shows that shall not be named, Ryan informs us that we will be learning who placed where for everyone except the Top 3. We learn this when the Idols' faces flash on the jumbotron - I really hope they do this every week and that the Idols start having fun with it.
4th Place - Lazaro
5th Place - Amber
6th Place - Janelle
7th Place - Burnell
8th Place - Paul
Empty Threats: Devin and Curtis are the Bottom 2 this week. Keith is shocked but refuses to commit to whether or not it's the right Bottom 2. Nicki thinks Curtis should NOT be there and declares, "If you go home, I'm going home." I don't really wanna lose Nicki, but if it means getting rid of Curtis....I mean...I barely missed her for the first twenty minutes last night....
Nicki gets up to "leave", but she makes it about four steps before turning back to her seat. Curtis sings "I Believe I Can Fly" and he throws EVERYTHING he can into it. (Note: I wish you could've heard my mother imitating his runs.) The audience is chanting save, Mariah is completely shocked, but come on. They can't possibly use the save in week one, can they?
Nope. They can't.
Maybe Charlie Askew can fill in for Nicki for the rest of the season, cause Curtis Finch Jr. is going home.
Final Thoughts: I'm not shocked by the results, but I am pleasantly surprised. It's hard to get a read on what America is thinking, but I don't think it's unexpected that the bottom four spots were guys. As always, two things will take you far in Idol - a great voice, or a great story. All of the ladies, Lazaro, and Burnell definitely fit at least one of those categories.
Do you agree with the results? And are you voting for the 11th Idol on tour? Let us know what you're thinking in the comments below!
Catch American Idol every Wednesday and Thursday at 8/7C on Fox!
(Images courtesy of Fox)
Follow Kylene on Twitter @keepingupwithky!