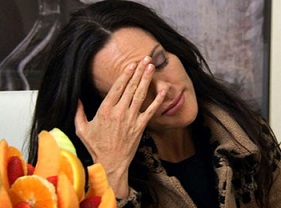 by Todd Betzold
London is calling in this week's episode of Million Dollar Decorators.
We get to see Kathryn first as she is packing with her crazy housekeeper, Jacqueline, for her trip to London. She is working on a country home for her ex, James, in London and going to do some more work on the renovations.
Jeffrey and Ross are working on the restaurant remodel and the owner has signed off on the design and they are ready for construction to begin, however Jeffrey can't get past the floors that he finds disgusting. Ross says with a $500,000 budget and only four weeks left, new floors are not an option.
First it was Nathan and now it is Martyn's turn to work with the website One Kings Lane. Martyn will be flying to London with Andrea and Susan from the website to do some shopping for items of Martyn's style, which will then be shipped back to the U.S. and sold on their website. He needs to find at least 100 items in three days.
Mary, in the meantime, has her business manager that wants her to meet with a client of theirs to redesign their home. Drew comes off as bubbly and a lot to handle for Mary. The budget would be $1.5-2 million, which is huge and something that keeps Mary intrigued. Drew starts out saying she wants to do whatever Mary wants to do, but as they go through the house Mary notices Drew has many different tastes then Mary and this would be a difficult job if she takes it.
Day one in London and shopping for Martyn as they hit up some shops. After one store, they have successfully found 10 items and things are off to a good start. That soon changes, as Susan keeps saying everything is too expensive that Martyn chooses, since he is not used to shopping for deals with his high-end clients.
Also shopping in London is Kathryn, as she meets up with James to pick up some more items for his home. He is very picky and they don't share similar styles, but they manage to come up with some items for the home.
Jeffrey and Ross arrive at the restaurant after demolition took place over the weekend, in which Jeffrey had all the floors ripped up to Ross' surprise. Ross loses it and says this will put them over budget and they won't finish in four weeks, as Jeffrey remains calm about the whole situation.
Mary and Nathan head over to their friend, Peter Durham's shop. After some discussion over Mary's possible new client, both say the stress of dealing with a difficult client outweigh the money and tell her not to take the job, but she is still undecided.
Kathryn arrives at James' country home and starts putting together all the pieces they just bought shopping. She is trying to get some things in order before James arrives. They have all the basics for the house, but now she is trying to work the details into the home.
Martyn is on day two of shopping, after finding 40 items on day one. Susan is still big on the restrictions of pricing and this isn't going over well with Martyn. Day two was not as successful.
Jeffrey and Ross go look at floors and come across the perfect match, but the cost is $50,000, which would put them over the budget. Can they talk the owner into the floors?
James arrives at his home and we see the stubbornness he has that Kathryn has talked about. He is set in his ways and they have different styles for sure. We also get to see that Kathryn still has feelings for this guy and lets it be known she still wants him.
Jeffrey goes to meet with the restaurant owner to discuss the floors. The owner is more concerned with the food and beverage of the restaurant then the damn floors. Jeffrey tries to sell him on the floor, but he says he wants to stick to budget.
Last day of shopping for Martyn and he has to get over 50 items still. Tensions rise when he finds a tray he wants to use in Elton John's home, which sets Susan off because they still need many more items for the website sale. They continue to shop, shop, shop and eventually make it to the 100 items and everyone is happy.
Mary arrives at her office to find a cute little fruit basket, or fruit "bouquet" as she called it, from Drew. This is so not Mary's style, so she has to call her up to say no. Drew was sad over the rejection, but Mary handled it well.
Kathryn and James walk around his country home and Kathryn flirts with the idea of her moving into the home and getting back with James. It's so obvious and weird to watch, but could it be foreshadowing for future episodes?
Million Dollar Decorators airs Tuesdays at 10/9c on Bravo.
(Image courtesy of Bravo)
Follow Todd @tbetzold