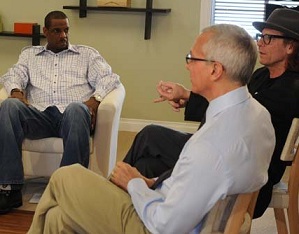 by Mike Bandy
It's the night of day one, and the patients at the Pasadena Recovery Center have a long and difficult night of detox ahead of them. This was made just a bit more difficult by the arrival of Steven Adler, who was famously arrested three years ago after he was found with cocaine at the sober house. His arrival, as we remember, really frightened Jennifer, one of the attendants, but she made sure she checked him in when he arrived, even though she was really afraid of him. Steven was actually really nice to everyone, and he even approached Jennifer to apologize for his behavior. Maybe he'll really clean up his act this time.
Nobody got a lot of sleep that night, and the next morning, Bai Ling was having an especially hard time. She didn't want to get out of bed and didn't want to participate in group that morning. Dr. Drew told her that she really needed to face things, even though it's hard, and that they really wanted her in the group. She eventually conceded.
That morning's process group dealt with the patients talking about the things that led them to drugs or alcohol. Steven wants to finish what he started as far as getting sober, and Michael Lohan talked about having an abusive father, and then being abusive to his son in turn. Amy Fisher has trouble with people judging her because of her past, and said that she's afraid that people won't like her if they look past her pretty façade. Jeremy Jackson identified with that, because he feels that that's why he did steroids - if he looks good physically, nobody will focus on the pain inside.
A bit later on, Dwight Gooden, famous major leaguer, arrived for treatment. He was introduced to cocaine early in his career, and he was suspended from the Mets for an entire season at one point. Because of his drug use, he went to prison. One morning he used cocaine and then drove his kid to school, and hit a car on the way. He feels residual guilt from that and still uses cocaine. He said that his family has forgiven him, but he needs to forgive himself.
Dwight's urine tested positive for cocaine upon arrival, and Dr. Drew called him on it. Dwight said that he's been through five rehabs, and doesn't feel comfortable in his own skin. He has a hard time forgiving himself for the things that have happened because of his drug use, and wants to put the past behind him.
That night, Amy Fisher has a bit of a meltdown about cameras being on her all the time, and decided to leave the Center. She went as far as to walk out and cross the street, yelling at the cameramen and saying that she was no longer doing the show. After a talk with her husband and her manager, she decided to stay in treatment, and that was a huge positive step for her. The next day, Dr. Drew met with Amy to discuss how she was feeling, and she broke down and said that the media ruined her life, and nobody cares. Dr. Drew hoped that Amy would recognize her part in what's happened to her instead of blaming the world.
Dr. Drew was also really concerned about Bai Ling, because she hadn't eaten in three days and hadn't taken the medication he'd prescribed for her. She was complaining of feeling nauseous and dizzy, and again did not want to participate in group. Things came to a head the next morning when Shelly came to wake Bai up, and she said that she just needed ten minutes. When Shelly left the room, Bai got up and put on her robe, ripped her name off of the wall outside, and as everyone was looking for her, made her way up onto the roof of the Center! Dr. Drew and the rest of the attendants were trying to coax her down, and were considering calling the police. The episode ended before we could find out if she actually jumped off the roof - here's hoping that she's safe and sound!
Celebrity Rehab airs Sundays at 9/8c on Vh1
(Image courtesy of Vh1)