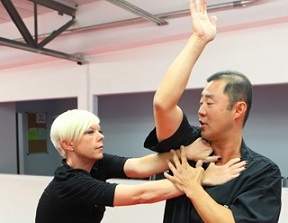 by Mike Bandy
Last night, Tabatha took over Concerto Salon in Valencia, CA. Nick, the owner, has lost the respect of everyone in the salon. One of his stylists, Sabina, is a domineering tyrant who rules the salon with an iron fist, and she degrades Nick constantly. The stylists need structure, and Nick seemed unable to step up and give it.

Nick wanted to manage the salon and not work behind the chair, but that plan hasn't worked out for him. His management skills are severely lacking. Meanwhile, he's borrowed money from his wife to open the salon, all of his credit cards are maxed out, and he owes about $100,000.

Salon Undercover revealed that the stylists were sitting around drinking, while Nick did nothing about it. Sabina was very demeaning to another stylist in the salon, screaming and swearing at her while clients could hear. One of the clients told Nick that she was really uncomfortable, and he didn't do anything about it. Sabina is verbally abusive to everyone, and she gets away with murder.

The inspection of the salon showed lots of dirt, and nobody taking responsibility for any of it. Tabatha said that everyone was disrespectful and didn't give a damn.

At the staff meeting the next morning, the staff said that they needed for Nick to stand up for himself. Sabina takes control over everything, and she treats Nick as though he's an idiot. Natasha, Nick's daughter, took the critique of her father hard, but agreed with it. Everyone really likes Nick as a person, but he's not much of a manager. However, Sabina isn't either - in fact, the staff said that if she officially took over, they'd all quit.

The assessment of the stylists' work showed that Sabina makes a lot of mistakes, one stylist doesn't wear gloves while coloring, and the assistant, Danielle, isn't getting much education at all. Tabatha said that she thinks a lot of the stylists are just lazy, and Nick needs to do more walking around and hold people accountable.

Tabatha sat down with Nick and his wife to talk about the salon, because she didn't think that they had a realistic idea of what It would take to run the salon. Tabatha invited a business broker to discuss what the salon would be worth if Nick put it on the market. The broker said that he could get about $20-$30K for it, but they didn't want to sell. Tabatha said that the salon could be successful, and she had a plan for it.

She takes Nick to Shin's Anti Gravity, where Nick had some self defense training, to learn empowerment and self discipline. He enjoyed the experience, and said that it helped him to be stronger. Next, the rest of the staff was brought in, and Nick spoke to them very assertively and told them exactly what he wanted from them. Then the staff was given bats to beat each other with, and Danielle went up against Sabina. She said it made her happy, and it made her feel liberated. Danielle then told Sabina that she doesn't want to be treated badly, and Sabina reacted by saying that Danielle is moody.
Next, Nick kicked off the renovation by taking a sledgehammer to the front desk. The staff was told to return in a couple of days and be ready to be professional. At the reopening, the staff saw a brand new front desk and sitting area, new brighter colors, along with new chairs and mats. The messy colorist got his own box of extra large gloves, and Danielle was told to help everyone in the salon. Sabina was told to treat everyone in the salon with respect, and Nick had to be ready to step up for his team.

The day began, and it went well. Nick stepped up and was walking around checking on everyone, the stylists seemed happy, but Sabina hadn't changed at all. She told Tabatha that she wasn't sure Nick would really change. At the end of the day, Nick stated that he wants to have consequences - he will give everyone 3 warnings, and then they'd have to leave.
Six weeks later, Tabatha came back to find that Nick had placed a lot of ground rules in place, and Sabina has softened up and become more helpful. Sabina said that she's completely backed away and she finds that it's working better. She's even become Danielle's main trainer. Nick says that he's definitely taken control of his salon and he feels strong enough to keep it up, and his wife is proud of him, and his financial situation is improving. Overall, it was a positive experience.
Tabatha's Salon Takeover airs Mondays at 10/9c on Bravo.
(Image courtesy of Bravo)
For more Tabatha's Salon Takeover links, visit SirLinksALot.net