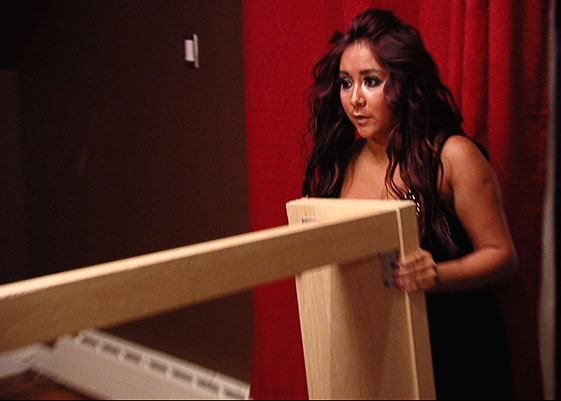 by Danae Young
This week on Jersey Shore, Sammi leaves after her and Ronnie break up for good.
The Situation started talking to Sammi about Ronnie's actions in Miami and Ronnie overheard their conversation.
Ronnie was pissed so Pauly D took him to the boardwalk for a man date. How cute.
Meanwhile Deena took Sammi out for some girl time, too.
The man date didn't really work because Ronnie was pretty heated when he got back to the house just waiting for The Situation to get home from work so they can "talk."
Ronnie approached The Situation and to stop Ronnie from yelling The Situation just apologized right away and the two boys ended up hugging it out. That definitely wasn't how anyone saw that ending.
JWOWW went out to dinner with her new boy toy Rodger because he is leaving for a few days. Unfortunately they went to a restaurant where Rodger knew every single person. JWOWW was getting annoyed that she wasn't getting any alone time with him.
Ronnie told Sammi they are officially broken up. Their argument this time wasn't like any of the others. This time, Ronnie started picking up the bed with Sammi on top of it. Then Sammi went after Ronnie and the boys had to hold the two back from each other. Sammi tried kicking at Ronnie and was repeatedly yelling, "I hate you!"
Finally they separated them and Ronnie went straight to the room where he proceeded to throw all of Sammi's clothes on the porch. Then he kept threatening to bring another girl home and left with the boys.
Deena and Snooki convinced Sammi to dress up really sexy and go out and find a guy to make Ronnie jealous.
While Sammi was getting ready, Snooki and Deena moved her bed into their room. That was a sight to see: two meatballs trying to move a bed downstairs.
The girls went to the same club the boys were at.
Sammi doesn't mess around. She immediately started dancing with a guy at the club and Ronnie had the death stare on her the whole time.
Ronnie left the club because he felt like she was being disrespectful. Really Ronnie? After everything he did to her in Miami? Come on!
When Ronnie got home he threw all of her stuff all over the place. Her glasses were crushed and he ruined a bunch of her stuff.
JWOWW dressed up in a sexy outfit for Rodger and they headed straight to the smoosh room.
The next day Sammi talked to the girls and made a decision to go home because as long as she is at the house these fights will continue to happen. She wants to move on. Finally. Good for her.
Ronnie and Sammi both started crying and said their goodbyes.
It took Sammi leaving for Ronnie to really regret what he did.
Watch all new episodes of Jersey Shore Thursday nights at 10/9c on MTV.
 
(Image courtesy of MTV)
 
Follow Danae at twitter.com/danaeyoung
 
For more Jersey Shore links, visit SirLinksALot.net