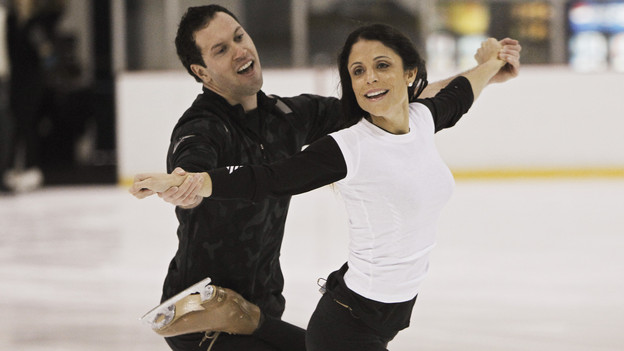 by David McAlpine

Last night on Skating With the Stars, the technical merits were amped up to include stunts and throws as the competition continues on. It's down to four contestants: Jonny, Bethenny, Brandon and Rebecca. Who will be next to leave the ice?

Before the performances could begin, we cut to some filler: the pros doing a Christmas-themed number to "Santa Baby." Then, Tanith Belbin dramatically described the required elements this week: stunts.

The celebrities and their partners had to do two of the three elements given to them by the judges to do. The first is the death spiral, where the woman is spun around with only one hand, almost laying down on the ice. The second is a throw jump, and the third is an overhead lift. Are they really subjecting the stars to this? Tanith and Vernon are talking as if these injuries that might happen are sidebars…but they're not.

Onto the performances:

Celebrity: Brandon Mychal Smith
Professional: Keauna McLaughlin
Brandon doesn't show up to practice on Tuesday or Wednesday because he's too weak from his stomach virus. On Thursday he finally shows up, but he looks like he's tired, which could spell trouble for him and Keauna. Getting closer to the show, Brandon gets progressively worse and can't even remember the routine. Cut to him sitting on a chair on the ice, and he opts to leave the competition because he can't skate tonight.

So, instead, the viewers votes from last week and this week will be combined with the judges scores from this week and next week to determine the two finalists in the competition.

Celebrity: Bethenny Frankel
Professional: Ethan Burgess
Bethenny looks like a pro getting whipped around up there on the ice over Ethan's head, but so far it seems like she's not struggling that much with the choreography. Instead, she takes Ethan to Central Park where they get a little practice in. Coming into the performance, Bethenny is confident she can win, but after her performance, I'm not so sure she'll be making it into the final two unless she gets major help from the viewers. She's still not as smooth as she could be and her musicality is still a little off; there's nothing really natural about her being on the ice. Don't get me wrong, I'll still be voting for her, but I'm not really holding out much hope. Johnny dismisses her to the kiss and cry saying if she doesn't care what the judges say, she can't grow as a skater. However, Bethenny just brushes it off saying she's having fun.
Technical: Laurieann: 6 Johnny: 6 Dick: 6 Total: 18
Artistic: Laurieann: 7 Johnny: 6 Dick: 7 Total: 20
Grand Total: 38/60

Celebrity: Jonny Moseley
Professional: Brooke Castile
Jonny is worried Brooke won't trust him because he already cut her finger, but Brooke is already willing to do some tougher moves with him. Jonny is shaking when he lifts Brooke over his head, which would make me scared, but she still thinks it's fine. Both of the technical elements trip up Jonny a little bit, but he looks so fluid on the ice, you almost want to forgive him. He's clearly shaken up slash excited that they were able to make it through the whole program, but it affected their ending. The judges come down on Jonny for his need to be flexible, but they're very impressed with his skating.
Technical: Laurieann: 9 Johnny: 9 Dick: 9 Total: 27
Artistic: Laurieann: 9 Johnny: 9 Dick: 9 Total: 27
Grand Total: 54/60

Celebrity: Rebecca Budig
Professional: Fred Palascak
After last week's fall in practice, Rebecca is having much bigger problems trusting Fred, especially when he's spinning her above his head. It seems like eventually she gets it, but we're left wondering how she'll be able to handle it in the performance. When she hits the ice, though, it's like she's a different person. Her moves are incredibly smooth and you can't help but wonder why she hasn't pursued this more. Every time Fred lifts her above his head, she's able to hold position (except maybe a little bit at the end) and she looks incredibly professional. Dick still can't shut up and talks way too long, while Laurieann and Jonny want to see her completely let go.
Technical: Laurieann: 9 Johnny: 8 Dick: 9 Total: 26
Artistic: Laurieann: 9 Johnny: 9 Dick: 9 Total: 27
Grand Total: 53/60

Skating With the Stars airs Mondays on ABC at 9/8c.

(Photo courtesy of ABC)

Follow David on Twitter: @DavidMcAlpine

For more Skating With the Stars links, visit SirLinksALot.net.