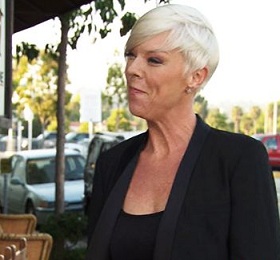 by Gina Scarpa
On tonight's episode of Tabatha's Salon Takeover, Tabatha pays a visit to Christopher Hill Salon in Brentwood, CA. The minute that owners Tim and Alexis lay eyes on her, Alexis is overcome with emotion. They're $200,000 in debt, could possibly lose their house, and she's 6 months pregnant. Oh wait. It's $300,000. Tim just decided to reveal that now. I'd cry too!
Well, here's the problem with Tim and Alexis. They have no background in the hair industry and no idea how to manage their employees. Another issue is that Christopher Hill doesn't exist. Tim made him up... something about a guy from London who was injured while working with Jacques Cousteau. What?!
Feeling (accurately) that Tim and Alexis have no idea what they're doing, Tabatha calls a staff meeting without them. It seems there is no respect on either side and Alexis treats the stylists like they're a bunch of idiots. Tabatha will decide who the idiots are! She brings in models of her own to assess the staff and see what their strong and weak points are. After their hair has been colored and cut, she brings in the owners to see if they can figure out what was done and it turns out that the idiots are... yep, Tim and Alexis.
This couple could not stop saying how much they wanted Tabatha's help but it doesn't seem that they want to listen to her at all. Instead of listening and learning, they just want Tabatha to wave her magic wand and make everything better. Well, life doesn't work that way! It's time for a turnaround.
Lesson #1: Take a lesson in Haircutting 101 with Christopher Hill Salon stylist Kevin (except Alexis isn't any good at it).
Lesson #2: Show your staff how much you appreciate them by throwing a party at your house in their honor (except Alexis would have preferred Frederic Fekkai as her guest).
Lesson #3: Learn the hard truths by hearing what your staff really thinks of your business abilities (except Alexis got defensive and yelled at them).
Fortunately, the saving grace ends up being Tim. He explains the real meaning behind Christopher Hill - in honor of his mother and his brother, who both have passed. He also paints over the old name of the salon and replaces it with a beautiful awning. The interior has been redecorated (thanks Tabatha!) and the gang prepares for an awesome reopening complete with new, shiny tools!
Things are starting to look good but Alexis is fed up with Tiffany, the receptionist. She steps in to try to do the job herself but that doesn't allow Tiffany to prove that she is capable of doing the job so Tabatha tells her to back off.  Alexis also complains that she didn't get a full sized refrigerator.  Well, boo hoo, ya brat!  
Tim decides that he'll be the person to work in the salon while Alexis works more behind the scenes.  Tabatha recommends that Kevin and Carol be promoted while Tim and Alexis put Tiffany on a probationary period while she undergoes some training.  Tim gives everyone a pep talk and hopefully, things have changed at the salon for the better.
Six weeks later... have things changed?  Is Christopher Hill on the right page?  There are seven new employees at the salon, Kevin and Carol are considering leaving, and Crazy Alexis hasn't changed at all.  Well, this was a waste of Tabatha's time.  On to the next salon!

Tabatha's Salon Takeover airs Mondays at 10/9c on Bravo.

(Image courtesy of Bravo)
Follow Gina @ginascarpa

For more Tabatha's Salon Takeover links, visit SirLinksALot.net