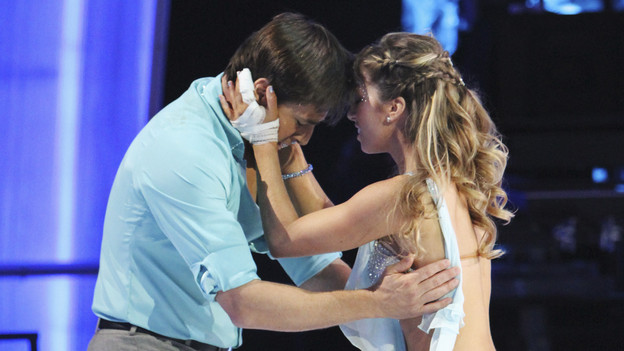 by David McAlpine

Last night on Skating With the Stars, it was a sign of how out of their element they might be, as injures were all over the place. Keanna skated out without Brandon and you could see that Brooke, Jonny's partner, had a bandaged hand.

However, just like Dancing With the Stars, the show must go on, and go on it did. This week, the teams had to put a jump into their routine where both their feet leave the ice and they land on only one of them (and hopefully not their butt shortly thereafter). The judges are looking for height, distance traveled and grace, which makes me wince when I think of what these celebrities might be subjected to.

They also need to tell a story with their skate, which is hard enough, considering some of them can barely stand up (i.e. Vince Neil). Am I wrong to love this show so much because of what could possible happen live?

Onto the performances:

Celebrity: Rebecca Budig
Professional: Fred Palascak
Last week, Rebecca again earned top marks, but Dick told her she needs more passion. Rebecca is concerned about her acting abilities (even though--surprise!--she's an actress), so she takes Fred to All My Children, where Fred sees he needs to be 100% with her all the time. She ends up injuring her wrist while they're doing a spin, but she's opting to fight through the pain. Her acting is solid (for the room there is to act) and we get our first judge interaction of the competition, but her skating skills definitely overshadow all of that. She gets whipped around by Fred and she lands her single jump well, making it clear she's the frontrunner.
Technical: Laurieann: 9 Johnny: 8 Dick: 8 Total: 25
Artistic: Laurieann: 9 Johnny: 8 Dick: 8 Total: 25
Grand Total: 50/60

Celebrity: Bethenny Frankel
Professional: Ethan Burgess
Bethenny is clearly pissed the judges are not responding well to her skating, especially since she got praised less than Vince and Sean who both fell. I'm definitely on her side, but she needs to get up to par a little more with her skating first--and it looks like she's getting better. Granted, she barely got off the ice for her jump, but her performance was able to tell much more of a story than Rebecca's. You could tell she's more comfortable on the ice, but not where she needs to be to compete. Dick hit it right on the head: she's larger than live on "Real Housewives," but she's not letting her personality shine through here.
Technical: Laurieann: 6 Johnny: 6 Dick: 5 Total: 17
Artistic: Laurieann: 7 Johnny: 6 Dick: 6 Total: 19
Grand Total: 36/60

Celebrity: Vince Neal
Professional: Jennifer Wester
Vince fell all over himself last week and he's trying to claw out of the bottom. Now it's starting to catch up to him because Jennifer is trying to teach him more advanced things while he's still learning the basics (in ripped jeans, of course). It takes taking Vince to a kids skating school to give him some confidence, which seemed to help. He's still gliding around and not doing crossovers, but he's really getting into the performance--and he gets off the ground on his jump! It was good for him, but not necessarily relative to the rest of the competitors. Johnny thought his skate was good, but peppered with "ugly stuff," but overall they thought it was good for him (emphasis on the for him).
Technical: Laurieann: 6 Johnny: 5 Dick: 5 Total: 16
Artistic: Laurieann: 7 Johnny: 6 Dick: 7 Total: 20
Grand Total: 36/60

Celebrity: Jonny Moseley
Professional: Brooke Castile
During training this week, Jonny tripped Brooke and cut her finger, which set them back a little for training. In the meantime, Jonny takes Brooke skiing, which she's never done before, but she was still very good at it. Back on the rink, Jonny looks strong on the skating, but weak on the acting. His expressiveness definitely shined throughout this week, and was even more impressive because he's the leading skater, not the one being led, like Rebecca. His combo jump was landed on two feet, and he was off balance during some of the spins, but it looked like he was really trying to get into it. The judges appreciated his attempt to be more powerful and they liked the performance, too.
Technical: Laurieann: 8 Johnny: 9 Dick: 7 Total: 24
Artistic: Laurieann: 9 Johnny: 9 Dick: 9 Total: 27
Grand Total: 51/60

Celebrity: Brandon Mychal Smith
Professional: Keauna McLaughlin
Earlier that morning, Brandon had been taken to the hospital after getting intense food poisoning, and he had yet to show up to the studio to skate. Earlier this week, Kyle and Lacey from this season of Dancing With the Stars to show these two how to skate and how to feel like they're telling a story. It's bittersweet to think that he won't be able to skate with Keanna tonight and, instead, judges have to look at the tape of his last complete rehearsal, which was shot Sunday afternoon. They look extremely fluid (it might be the angle of the camera), but they look more in unison than the other couples. Story wise, I'm not feeling it, but I think the best overall performance of the night. Dick wants to see him stand up more on the ice, Laurieann loved it and Johnny had the balls to knock him for not sucking it up and performing.
Technical: Laurieann: 8 Johnny: 5 Dick: 5 Total: 18
Artistic: Laurieann: 9 Johnny: 6 Dick: 6 Total: 21
Grand Total: 39/60

Am I the only one who thinks this scoring is kind of arbitrary? Jonny better than Rebecca? Vince tied with Bethenny? Kind of ridiculous, don't you think? I'm going to keep an eye on this, because I'm calling foul on the judges part to actually do their job and critique everyone equally.

Now we've reached the point where we need filler--so co-host Tanith Belbin hits the ice with her partner, Ben Agosto. It's a nice flashback to the Olympics, but it's not what we're here to see.

Surprise, surprise: it comes down to Bethenny & Ethan and Vince & Jennifer for who's going home. After some suspense, it's revealed that Vince & Jennifer are out (whew!). Bethenny and Ethan live to skate another week!

Skating With the Stars airs Mondays on ABC at 9/8c.

(Photo courtesy of ABC)

Follow David: twitter.com/davidmcalpine

For more Skating With the Stars links, visit SirLinksALot.net.