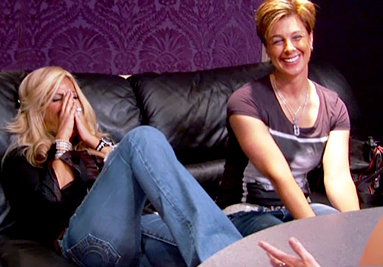 By Chandra Clewley
This week's Real Housewives of Atlanta delves into all of the women's lives a little more. 
Kim and Tracy hang out in this episode, and she admits to having an affair with her. Kim is meeting with her vocal coach Jan Smith and working on The Ring Doesn't Mean A Thing.
Sheree is working on her acting and meets with her acting coach to talk about starring in a play and getting an agent. She finds out that the play doesn't pay and she has to think about since she is a "grown ass woman with grown ass bills." Later, she meets with the agency and has to audition in front of several agents which is totally out of her comfort zone but she seems to handle it well.
Kandi is participating in a charity car race and is enlisting all of the girls to come to the race. She wants to race her CLK against Sheree's Aston Martin.
NeNe seems depressed about her flailing marriage and is locked in her house when her friend Diana stops by and insists that NeNe get out of the house, and go to Kandi's race. NeNe is confused because she thinks that Cynthia is acting weird and is always getting off the phone when Peter is around, which his weird, because NeNe gets along well with him.
Cynthia, on the other end, is getting scolded by Peter who is jealous that she is always on the phone when he is home. He works a lot and is stressed about the business, and when he is home, he wants her undivided attention. Cynthia comes back that he is on the phone often too, and that NeNe is going through some bad stuff. Peter says all of his calls are business. Um, excuse me, Peter, do you know WHY those cameras are following you around in your house? It's called Cynthia's business, being on a reality TV show, with NeNe, who is a cast member. So, technically, those phone calls ARE business! 
Phaedra and Apollo have a photographer come by to capture some newborn photos of baby Aiden, when he poops all over his mom during the shoot. You have to laugh, watching Phaedra going through all of the "first time mom" crises. She reacts like most of those moms would, in total shock and dismay. 
The race is weird. First of all, how is it legal and insured that Sheree and Kandi can race their own street cars on this track? Secondly, Kim brings Tracy and then gets hostile when Sheree and Cynthia want to talk/visit with her. Thirdly, NeNe shows up begrudgingly and is in a quiet and sad mood, and is shunned by Peter, who she usually gets along with really well. Kandi wants a re-do after she gets confused while racing against Sheree and losing. All in all, it is a weird night for everyone, so when NeNe calls to invited Peter and Cynthia over for an after-race drink with Diana and she, they get to talking about how weird the night was. NeNe asks to speak with Peter but when she asks him if something was wrong, she comes at him all wrong and he gets defensive which makes the conversation go really poorly and they end up completely arguing.
Cynthia is tortured by the argument and can't believe just because they are both going through a stressful time individually it has now exploded into a huge argument. 
Catch an all new Real Housewives of Atlanta next Sunday at 10/9 C on Bravo
Follow Chandra at http://twitter.com/#!/ChandraClewley
For more Real Housewives of Atlanta visit Sirlinksalot.net