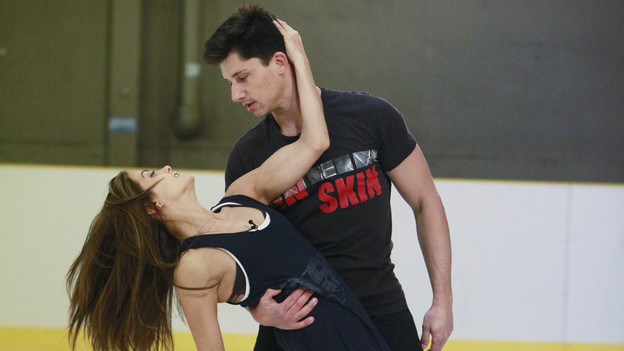 by David McAlpine

Tonight is the night some of us (mostly just me and a select few people that I've talked to, but I know once Dancing With the Stars is over, you'll all change your tune) have been waiting for--the premiere of ABC's new reality series Skating With the Stars. It's cold, there's snow on the ground, so why wouldn't you want to watch Dancing With the Stars on ice? That's right, there's no reason.

The pros come out first and show us why this show is going to be so great: they make this look easy when it's clearly not. So even though I feel a twinge of guilty pleasure when I know I'm about to watch six stars (including one of my personal favorites, Bethenny Frankel) attempt to move on ice, I know it's still going to be an entertaining hour and a half.

The celebrities are:

Brandon Mychal Smith, Disney Channel Actor
Sean Young, Actress
Jonny Moseley, Olympic Gold Medal Skier
Rebecca Budig, Soap Star
Vince Neil, Lead Singer of Motley Crue
Bethenny Frankel, Former Real Housewife of New York

Now if you thought the stars names were big, the judges are, well, explosive. There's US Figure Skating Champion Johnny Weir, Hollywood Choreographer Laurieann Gibson and Olympic Figure Skating Champion Dick Button. You really can't get a bigger judging panel for this show!

Much like Dancing with the Stars, the judges will be scoring the contestants, which accounts for half of their weekly score. They'll get two scores: one for technical merit and one for artistic interpretation. The other half is left up to the votes of the viewers after the show.

Also like its dancing counterpart, each week will have a specific set of skating moves that the contestants must use in their routine. This week, the stars need to do an assisted glide on one foot and a spin in sync with their partner. Like I said, it looks easy, but we'll see how well the contestants do.

Celebrity: Brandon Mychal Smith
Professional: Keauna McLaughlin
Brandon seems a little too confident and overeager, so I'm not too sure how he's going to take to the ice. He's picking up the moves, but he's very much so a camera hog, which she finds to be a challenge. When he hits the ice, I'm actually impressed with how good he looks, but the composure falls apart a little bit as the skate goes on. His spin is solid and his lift is a little shaky, but overall it looks like he did a great job. Dick thought his movement needed to flow more, Laurieann loved it and Johnny was impressed.
Technical: Laurieann: 6 Johnny: 5 Dick: 5 Total: 16
Artistic: Laurieann: 7 Johnny: 7 Dick: 6 Total: 20
Grand Total: 36/60

Celebrity: Sean Young
Professional: Denis Petukhov
Sean is older and, well, less mobile to be honest. Tanith even said it herself when they came out: Sean is the least experienced and has been using a chair during practice to help her balance, which showed in the video. On the ice, she looks very uncomfortable and doesn't really move much. It's all Denis moving around and pulling her behind him, while she seems to stumble through the steps. Johnny thought Sean could be sturdier in her skating, Dick thought it was a nice start, but Laurieann said it best: "he carried you around the ice!"
Technical: Laurieann: 6 Johnny: 5 Dick: 5 Total: 16
Artistic: Laurieann: 7 Johnny: 5 Dick: 6 Total: 18
Grand Total: 34/60

Celebrity: Jonny Moseley
Professional: Brooke Castile
Jonny and Brooke hit it off right away, but Jonny is definitely not light on his feet. He runs into walls, trips and falls and can't seem to execute anything right during practice. Apparently everything that Jonny has learned for skiing is hindering him from skating well, so he has to relearn how to move on the ice. Jonny definitely has the "no fear" element on his side, since his sport really requires him to put that to the side. As a result, his program was very energetic and much easier to look over his mistakes. Laurieann wanted more musicality, Dick says he's looking for more posture and Johnny really liked the energy of the performance.
Technical: Laurieann: 7 Johnny: 7 Dick: 7 Total: 21
Artistic: Laurieann: 6 Johnny: 6 Dick: 7 Total: 19
Grand Total: 40/60

Celebrity: Rebecca Budig
Professional: Fred Palascak
Surprise! Rebecca has a background in skating, so when she hit the ice, it was much more natural than one might expect. Because of that, Rebecca is a little overeager and Fred is trying to pull her back a little bit so she can learn the basics. It didn't matter when she got into her performance, because she worked it. She looked incredibly professional and her and Fred really gelled. Their technical elements were great, but Dick was hoping that she could become a little less tentative on the ice.
Technical: Laurieann: 7 Johnny: 7 Dick: 7 Total: 21
Artistic: Laurieann: 8 Johnny: 8 Dick: 8 Total: 24
Grand Total: 45/60

Celebrity: Vince Neal
Professional: Jennifer Wester
Vince also has experience on the ice--he's even won a competition already (when he was much, much younger). Vince is having a lot of trouble picking it up, but Jennifer is happy that he's at least willing to learn. Vince is really having trouble with picking up the choreography and balancing, but Jennifer is sure he can come through. On the ice, Vince looks like a really retired skater. He's got the energy and the drive, but his body doesn't seem to be doing what he wants. Everything looks a little clumsy and unsteady, but he does it with a smile on his face. Johnny thought he wasn't dominant enough, but Laurieann and Dick enjoyed it.
Technical: Laurieann: 6 Johnny: 4 Dick: 4 Total: 14
Artistic: Laurieann: 6 Johnny: 4 Dick: 4 Total: 14
Grand Total: 28/60

Celebrity: Bethenny Frankel
Professional: Ethan Burgess
Bethenny is just six months out from having her baby, so she's concerned about the shape she's in. Bethenny is having an issue with her spins because she's getting dizzy, but she's picking everything else up very well. When she hits the ice, it's like she was never out of practice to begin with! She's a little unsteadily and doesn't flow very well, but all the moves are very well cone and look much harder than any other routine. It's clear that she wants to take this competition home and win it all. The judges thought her performance was great but she needs to put more into it.
Technical: Laurieann: 5 Johnny: 5 Dick: 5 Total: 15
Artistic: Laurieann: 5 Johnny: 4 Dick: 5 Total: 14
Grand Total: 29/60

Wait, wait, wait. What? I'm in agreeance on most of these scores, but Bethenny deserved much higher scores, especially since she went for it much more than Sean did. It seems like they're almost biased against her, which is sad, because I think she has the potential to win.

Skating With the Stars airs Mondays on ABC at 9/8c.

(Photo courtesy of ABC)

Follow David: twitter.com/davidmcalpine

For more Skating With the Stars links, visit SirLinksALot.net.