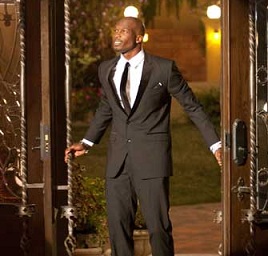 By Jackie Helm
I love this show because Chad Ochocinco eliminates two girls at a time!  He is down to his "Elite Eight" and I couldn't wait to see who got the next punt home!  Last night on Ochocinco:  The Ultimate Catch, Chad whisked the girls away for a quick cabin vacation in Big Bear Lake, California.
Chad and the girls attempted to fish, but no one was experienced in the sport, including him!  Tara squealed and screamed and eventually let her worms free in the grass.  Rubi caught a big fat glob of seaweed.  Courtney handled her pole and even snuck in a little alone time with Chad.
That evening, the crew gathered around a camp fire and delved deep into their life stories.  Chad told his story of growing up with grandma and not caring about academics as much as he did sports.  But grandma made him buckle down and he obviously made it to the top.  Most girls had similar stories of trials to triumph, but Tara scoffed at their woes and only had jokes!
Chad chose Courtney and Tiphani for the personal match up date.  They froze to death on a boat which gave the girls a great chance to snuggle with Chad…for like 5 minutes.  It appears that every date lasts for about 5 minutes.  But due to the boat ride being so cold, each girl got a little personal chat time with Chad once they were back at the cabin.  However, he did say, "Let's talk for 5 or 10 minutes."
While talking with Tiphani, Chad concluded that they had built a cool foundation and friendship.  This worried Tiphani, as being considered a friend could ruin the chances of being considered a mate!  While Chad was with Courtney, she got the make-out session that she'd been waiting for.  Courtney felt she had the cat in the bag!  Speaking of cats, apparently Courtney talks about her cats often and how much she desperately misses them.  Later, Tiphani snuck into Chad's room and gave him the scoop on Courtney wishing she was with her furry friends rather than him.
The next match up date was granted to Tara and Heather.  They gathered for lunch and in her sweet, high pitched voice, Tara prayed, "Dear God, thank you for the tall glass of hot chocolate sitting in front of me and please strike Heather with lightening and let Chad pick me….".  As bad as it sounds, I couldn't help but laugh. 
Despite on-screen haters, Tara has gained off-screen notoriety for her quick wit.  She plays a good game and holds Chad's interest.  She's not a puppy dog lapping at his feet.  And although a tad mean at times, Tara's funny!  However, she's shown signs of not truly liking Chad, I think she is being kept for ratings.  Carry on Tara!
During dessert, Chad asked Heather her opinion of the other girls.  She began with her forth right competitor Tara.  She explained…well…she said…no, she CHOKED!  All Heather could come up with was that Tara doesn't take things seriously.  Tara swooped in and confidently stated that Heather is weak, doesn't trust men, has issues with daddy, and no one wants to fix someone who is broken.  BAM!  Oh and then Tara added that Rubi is only on the show for a record deal.  Told you Tara was quick!
Chad decided to hold the elimination ceremony right there in Big Bear!  I'm not sure why this was made to be a big deal, but it was.  The nail biting event took place in an open field where the wind was fierce and the girls appeared to be freezing.  Nobody told the girls to dress warm, but Chad was decked out in Carhartt coveralls!  I must say the ladies held it together well as I didn't see a single lip quiver. 
Chad told Heather that her past mistrust in men was not something you could turn off and on like a switch.  He told Tara that she had to get serious about him because he was sending Heather home.  In a display of seriousness, Tara jumped for joy for being chosen to stay.
Chad told Tiphani that she had become a cool friend, but didn't have the physical chemistry that he and Courtney had.  However, he's learned that relationships that start with fire tend to burn out.  Courtney was sent home to reunite with her cats.
This week we got a double scoop of love and war as Episode 7 was shown the next day!  Rubi was called out many times regarding her constant singing, but Chad didn't seem to pay much attention to it.  Although Jasmine was the first to throw folk under the bus, she found herself sipping motor oil!  A couple of the girls told Chad that Jasmine had switched her personality up a little bit and had gone from sassy to sweet.  Was she being fake?  Speaking of fake, during alone time with Brittany she had every opportunity to kiss Chad but kissed his hand instead.  She said she wasn't rushing him.  WHAT IN THE %$#& WAS THAT, he cried and we wondered!  More talk took place over Tara being the perfect puppeteer. Unfortunately, Erika was coined a puppet and was sent home.  Jasmines' personality switch didn't fly with Chad and she got the boot too!  Four girls gone in one week.  Now THIS is how these dating shows should work!
Ochocinco: The Ultimate Catch airs Sundays at 9/8c on VH1.

(Image courtesy of VH1)

Follow Jackie at twitter.com/justjackieshow