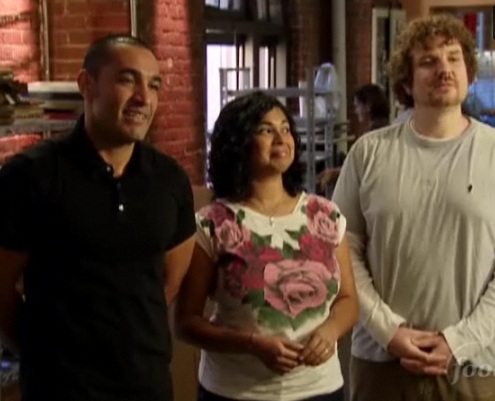 by Chandra Clewley
Here we are at the season finale of The Next Food Network Star! It's hard to believe this season is ending tonight. How in the world will the network executives decide between Herb Mesa, Tom Pizzica and Aarti Sequeira? They are all so different, so fun and so, so likeable! This isn't going to be easy!
The finalists are still in New York City, and head over to the Food Network studio. This place is serious! There is a huge kitchen where several chefs are working and prepping and then, in walks Rachael Ray, Food Network darling and superstar celeb chef. Rachael will be directing the three finalists in their three minute reels or pilots that will then be shown to a screening audience of Food Network viewers and fans that will judge the pilots! 
Herb goes first. The first go around isn't so great, and Herb is getting tongue tied and more nervous the more they reshoot. Finally, he asks to tape photos of his wife and kids to the cameras, and hits his stride! He is bright, fun, electric and really good natured. Plus, his food looks delicious!
Aarti is next with her Indian flare. She decides to make a pizza infused with Indian notes. Her first run is a bit nerve wracking because she trips up with her self-doubt, but once she realizes she is sabotaging herself, she masters it and becomes her natural, friendly, approachable and sweet  self and makes this difficult, ambitious and intimidating style of cooking seem do-able for the at home audience.
Tom comes on set, and starts taping. He is all over the place with his Big Chef approach and knows he needs to shut up. On his second take, he absolutely nails it, he is hilarious, he has everyone laughing and does a great job of making everyone on set want to try his food. 
The Food Network viewers that judge the pilots love them all and the decision is going to be even more difficult for the committee after all three of the finalists make everyone laugh, relate and want to know more about the finalists!
The committee loves the progress that all three of the finalists have made. CEO of Food Network Brooke Johnson has a cameo, and admits that it has been a very difficult decision! In the end the person that wins The Next Food Network Star will begin shooting immediately and their show will air next week.
After careful deliberation, Bobby Flay has the honor of announcing that (Chandra's favorite) Aarti Sequeira has won and is The Next Food Network Star!!! 
Congratulations to Los Angeles Food Blogger Aarti Sequeira from all of her fans here at Reality Wanted!! We love bloggers! Especially FOOD bloggers! 
(Image courtesy of Food Network)
Follow Chandra at https://twitter.com/ChandraClewley
For more of The Next Food Network Star visit Sirlinksalot.net