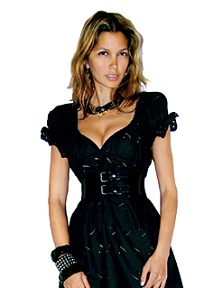 by Gina Scarpa
Tonight, Bravo will air the season finale of Double Exposure. Model turned photographer Indrani may have complicated personal interactions with her coworkers Markus Klinko and GK Reid, but her professional relationship with them has resulted in stunning photographs all season long... and she wouldn't have it any other way!  We spoke to Indrani today in an exclusive interview about bringing her personal life on air, her relationships with Markus and GK, and whether or not she'd be up for another season of Double Exposure.

Q. Gina, RealityWanted: How did you get into photography after your modeling career?
A. Indrani: I have always loved photography, since I was a child. I grew up in India and traveled to England and Canada and the states. Photography was very important. We went to Egypt and Greece. It's something that kept my family together. I had this attraction to images. As a teenager, I wanted to learn more about photography but a 14 year old girl isn't an ideal assistant, so I became a model. It allowed me to be in the center of photo shoots and learn a great deal. I traveled around the world for many years as a successful model. I worked in every major city with a lot of the greatest photographers around. When I met Markus, he was a classical harpist and I had been doing my own photography on the side. We both decided that we really wanted to pursue this together.

Q. Gina, RealityWanted: With all the financial hardships and emotional toll, what keeps you working with Markus and GK?
A. Indrani: I operate from a place of love. It's all about really enjoying what I do. I love Markus, I love GK, and I love the work that I do. While there's a lot of tension, I wouldn't have it any other way because it produces really extraordinary results. I really enjoy what we do together.

Q. Gina, RealityWanted: Were you apprehensive about your personal life being shown on tv?
A. Indrani: I was, actually. I was interested in showing my viewers, people looking at the images, more of the creative process. The personal life aspect was kind of distracting from our creative goal but it all balanced out well.
Q. Gina, RealityWanted: Have you noticed a change to your personal life or work since the show started airing?
A. Indrani: Definitely, sure! There's been a lot more interest in my personal life. Before, I was very much behind the scenes. Being in front of the camera is challenging because I like to focus 1000% on creating the images. I don't have any energy left to worry about my image. That's the fun part of it. It's an odd sort of balance where people are watching me while I'm creating other people's images.

Q. Gina, RealityWanted: You work with a lot of high profile celebrities. Are you ever intimidated by anyone?
A. Indrani: I'm more intimidated by the possibilities of each shoot than the personalities. I appreciate and look for those great qualities. For me, it's more finding out how to create a visual representation of what makes each person interesting. That can be challenging. But it's not intimidating.

Q. Gina, RealityWanted: Do you have a favorite photo shoot that you've done?
A. Indrani: Yes, my favorite photo shoot of all time is the one in India with the children at my school which is in the final episode tonight. I created a school with my father 15 years ago and I've been supporting it ever since. It was so meaningful to bring my creative partners to India and photograph the kids there. They're so full of light and energy and happiness, and it was really just a wonderful moment for me to bring everyone together that I loved. I had tears in my eyes. It was a difficult shoot for Markus, it was very challenging for him to see the poverty and the difficulty with which so many of these people live. However, I think it was also really great for him to have that experience. I hope the viewers see that everyone can make a difference.
Q. Gina, RealityWanted: Have you given any thought to doing another season of Double Exposure?
A. Indrani: I think it could be interesting. There's a lot more creative exploration that we can do and there are a lot of great artists that we're going to be shooting in the next little while.
ALSO SEE:
Double Exposure: Exclusive Interview with Markus Klinko
Double Exposure: Exclusive Interview with GK Reid
Don't miss the finale of Double Exposure, tonight at 11/10c on Bravo.
(Image courtesy of Bravo)

Follow Gina at twitter.com/ginascarpa
For more Double Exposure links, visit SirLinksALot.net