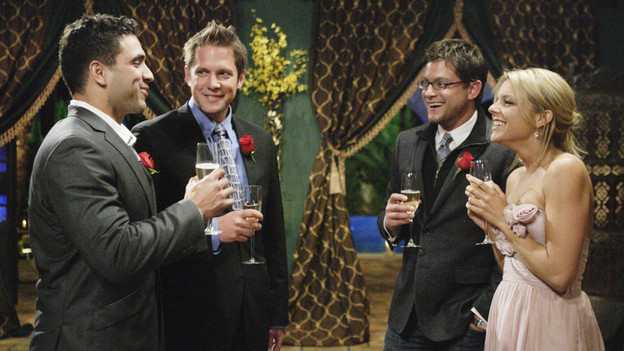 by David McAlpine
Last week on The Bachelorette, it was hometown date week and Roberto, Chris, Frank and Kirk would put to the test as Ali met their families and began to really test the waters of commitment. After heartfelt conversations and honest answers, Ali finally made her decision and Kirk was sent packing, leaving only three in her quest for love.
Or could it be only 2? This week's episode opens up with the always-nervous Frank, who decides that, before he can go to Tahiti and fall more in love with Ali, he needs to get closure with his ex, Nicole (yes, that makes perfect sense). Of course, while Frank is in Chicago with Nicole (instead of the girl that he's supposed to be falling in love with), he realizes Nicole is the girl for him and decides to go all the way to Tahiti to give Ali the big news.
But before the bombshell drops, Ali gets to have two wonderful, in-depth dates with the other two suitors: Chris and Roberto. Sure, they aren't the stars of the show, but judging by the mid-season teasers (as well as the ones they've run every hour on ABC for this week's episode), they're lined up to be the final two. So let's delve a little more into relationships (since they're the ones that should matter):
Ali has apparently been missing Roberto, so they take the 1,094th helicopter ride this season to another island in the South Pacific for some secluded conversation and dinner. Ali starts to get very inquisitive, including his desire to be together in the future. She's worried that Roberto can't commit fully, but he proves her wrong when he answers her question directly and honestly. It's real for Roberto, especially when he drops the L-word: "I think I'm falling in love with you." Notice how he buried that in there with all those maybe/sort of words? Nicely done.
For being so awesome, he gets a makeup session with Ali. And, for being even more awesome, he gets a fantasy suite invitation from her. It doesn't take long for either of them to decide and they're off to spend the night together and the moon sets on Ali's first night in Tahiti.
Night two is with Chris, who (surprise!) Ali also missed. Instead of a helicopter, they take to the open water on a giant luxury catamaran (severely trumping anything stunning the Chris could ever pull on a honeymooned) and start island hopping. And by island hopping, I mean drinking on the boat as they watch the islands go by. Then they start looking for pearls in oysters on the beach.
As they're sitting down to dinner on one of the various islands they passed, Chris starts to open up and overcome his fear of letting people in because of his mom. Chris doesn't quite broach the L-word, but gets very close by saying that he can see himself with her forever. The Fantasy Suite card comes and they take the offer, but not before Chris first wonders how they can top this with their honeymoon. Bingo! At least someone else is on the same wavelength with me.
Now it's Frank's turn, which we all know is going to be rough. Of course, the sad music, the voiceovers of Frank's sad voice with Ali's happy face--it's all building up for this burst of emotion. But Frank can't do it cold! No, first he has to run it by Chris Harrison, who gives him the advice that he has to do "straight up, right when she gets there." What else was he going to do, hit it and quit it? This is ABC-Disney, people, not even that would happen on The Bachelorette.
So Frank drops the L-bomb, but not in a good way. Instead, it's with his ex-girlfriend, which cripples Ali. She's in tears, she can't talk, and she's pissed (understandably) that he didn't say anything earlier. Frank tries to explain that he was totally on her side until he sat down with Nicole to try and get closure, which I'm sure made her feel so much better, right?
Wrong. Instead, it's seriously 20 more minutes of crying and back and forth about why Frank didn't do this or why he did do that. At one point, I'm hoping just lets him go because a) he's an a-hole for getting this far and then dumping her and b) even if he comes back to her, he already dumped her once and being wishy-washy is never a good thing. Eventually, she comes to the conclusion that he's the "biggest jerk" she's ever known. Granted, it took her almost half an hour show time, but she figured it out.
Still, Ali wants to have a rose ceremony. She's apparently so emotionally shattered that she needs reaffirmation from Chris and Roberto that they still want in. She's only a pretty, successful, thin twenty-something...I mean if that were me, I would need tons of affirmation, too. At the rose ceremony she shrugs off Frank's behavior and gives Chris and Roberto their roses, both of whom accept (lucky for her).
Tune in next week to ABC's The Bachelorette: Men Tell All reunion special to see what really went down on the show, next Monday at 8/7c!
(Photo courtesy of ABC)
Follow David on Twitter: twitter.com/davidmcalpine
For more Bachelorette links, visit SirLinksALot.net.