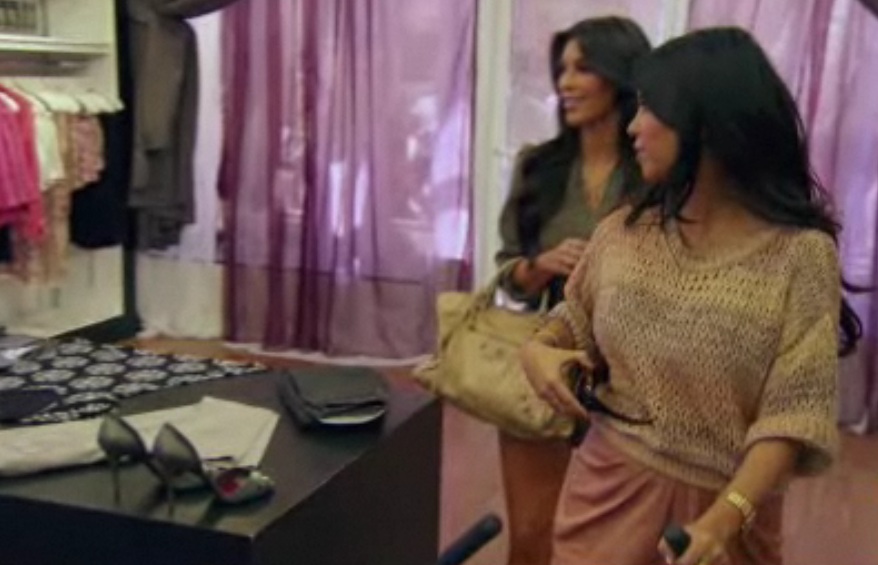 by Danae Young
This week on Kourtney and Khloe Take Miami, Kourtney takes action on Kim's texting craze and Katy has an STD scare!
With Khloe back in Los Angeles, Kourtney called Kim to see if she could come to Miami to help her out.
Kim took the first flight into Miami and got a really big welcome to Miami.
When Kim got to the apartment, Scott and Kourtney were M.I.A., so she went out onto the balcony to check there, which was a huge mistake!
Kim caught Kourtney and Scott having sex on the balcony! So gross!
Minus that weird incident, Kourtney was hoping her and Kim can really bond while she is there.
Kim and Kourtney went to lunch and Kim was busy texting away on her Blackberry (a.k.a. Crackberry) and not listening to a work Kourtney was saying so Kourtney took it away from her.
Kim did the same thing while they were working out on the beach…so much for sisterly bonding.
So, while Kim was in the shower, Kourtney took her Blackberry and laptop and hit them in her car. Props to Kris for helping Kourtney come up with the idea.
Kim went into Dash to check in on things only to find Katy missing so she asked Jacqui where she was and, even though Katy asked Jacqui not to tell anyone, Jacqui still told Kim that Katy found a red bump on her bikini line so it made Katy nervous that she had an STD or something.
Katy found out at the doctor that the red bump was just an ingrown hair. Phew!
Kim ended up finding her stuff and went back to her old texting self. So, while Kim was busy texting away on her phone at lunch, Kourtney got up and left her there without Kim even noticing.
Katy found out Jacqui spilled the beans and got pissed at her for telling Kim and she called Jacqui a two-faced bitch.
Kim came out and made the two of them friends again.
Kim felt bad about the texting situation so she surprised Kourtney and took her on a seaplane to prove she really was listening at lunch.
Watch all new episodes of Kourtney and Khloe Take Miami Sunday nights at 10/9c on E!
 
(Image courtesy of E!)
 
Follow Danae at twitter.com/danaeyoung
 
For more Kourtney and Khloe Take Miami links, visit SirLinksALot.net