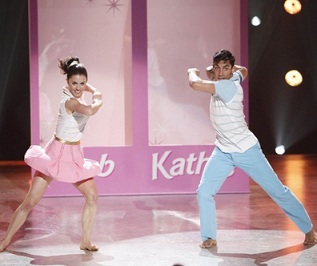 by Gina Scarpa
Tonight's live elimination episode of So You Think You Can Dance starts off with a routine by the Top 9 to Sting's "When We Dance" choreographed by the fabulous Mia Michaels. Oh, how I've missed her choreography! If you tuned in last night, you saw that Alex was injured, unable to dance, and automatically placed in the bottom three tonight. He needs to recover quickly, Wolverine style.
After tooting their own horns for their bunches of Emmy nominations (deservedly so), it's time to find out some results. First up on the stage are Billy and Lauren. Once again, Billy is sent to the bottom three and Adam advises him to forget that he's in a competition and just bring joy to the stage. He needs to show his heart and his personality pronto. The hype from Billy Bell season 6 is dead and gone and he's in big trouble. Of course, that means that Lauren is safe.
After a commercial break, the remaining five contestants are brought to the stage. Kent, Jose, and Robert are safe, leaving Adechike and Ashley to find out which of them will join Alex and Billy in the bottom three. I'm sure you're expecting Adechike to be in the bottom three but surprisingly, it's Ashley. The tears in her eyes form almost immediately, but the emotion is right there for Adechike as well, especially after Mia apologizes to him for her harsh comments last night.
All stars Anya and Pasha have never danced together on the So You Think You Can Dance stage. It's true! The only time they ever danced together on the show was at their very first audition in season 3 and the repeat that performance tonight to "Magic Carpet Ride" by Mighty Dub Katz. If you want to see ballroom done right, look no further than these two. They are no joke!
I almost fell off my couch when I saw the L.A. cast of In The Heights, complete with Lin Manuel Miranda, take the stage to perform "96,000". If you have never seen the show, please rush out in New York or L.A. or anywhere it's playing and see it immediately. I am so happy to see them on So You Think You Can Dance tonight!
Time for solos and Billy's is either one of his auditions from season 6 or one that looks a lot like it. I think he's trying to remind the judges the emotion that he once brought out of them but they can't keep him based on a memory. Ashley dances for her life tonight and it's hard to believe that she'll be the one headed home. It's clear she doesn't want to leave... and I don't want her to, either! Besides, if she goes, there will be only guys left in the competition.
Alex is unable to dance so the judges head off to deliberate while Natasha Bedingfield performs her new single "Touch", backed up by dancers Ade, Neil, Mark, Dominic, Lauren, Kathryn, Comfort, and Courtney.
The results of Alex's MRI are in and he's suffered a lacerated Achilles tendon, meaning it has detached itself to the bone.  He'll have to have a simple operation with an 80% chance that he'll be dancing again soon.  He'll have to rest for three months after his operation on Tuesday and he'll have to leave this year's competition.  The good news is that he's invited back for season 8.  PLEASE COME BACK, ALEX!  
To read Alex's interview following his elimination, click here.

Tune in to So You Think You Can Dance when the Top 7 take the stage, Wednesday night at 8/7c on Fox.
(Image courtesy of Fox)

Follow Gina at twitter.com/ginascarpa
For more SYTYCD links, visit SirLinksALot.net