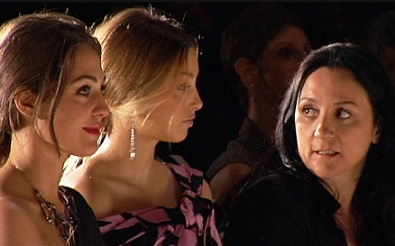 by Gina Scarpa
Last night, on The City, Roxy went looking for a new apartment after her falling out with Whitney. However, money is going to be a bit of an issue and she's going to need her father's help in order to be able to get her life back on track. She sets up a lunch meeting with him to try to squeeze some money out of him. Her dad is Ken Olin, of "Brother and Sisters", but just because he's an actor who makes good money doesn't mean he's going to foot the bill for his daughter. Roxy is going to need to figure this one out for herself.
Erin and Kate run into Whitney at a vintage couture event and ask her to send over some things for Elle's next photo shoot with Twilight's Ashley Greene for their website. At the office, Joe keeps suggesting the Whitney Eve line but of course, Olivia tries to push it aside. Too bad for her. Everyone else is on board and it looks like Whitney's line will be seen on Elle.com sooner than Olivia would like.
Over at People's Revolution, Whit delivers the good news that her clothing will be seen on Elle.com. She then throws a snarky comment Roxy's way when she mentions that perhaps the people at Elle will make sure Ashley actually wears the clothing, instead of throwing it on the floor. It seems there's no peace between these two friends, following last week's episode and the tension is obvious to everyone, including Kelly. Mama Wolf throws it out there that she doesn't care what the problem is, but they better get it together in time for the charity fashion show they're all supposed to attend later on that evening.
Meanwhile, Ashley shows up for her shoot, and loves the Whitney Eve jacket and puts it on right away!
There are no smiles at the fashion show, especially after Whitney finds out from Samantha that Roxy has been looking for apartments behind her back. The two start to have it out in the middle of the show and are quickly shushed by Kelly. There's a time and a place, ladies!
At Elle, Olivia asks to be able to cover an important assignment in Tokyo and Joe agrees, but with a little hesitation. She'll really need to prove herself and deliver while in Japan. Erin doesn't mind that Olivia will head halfway across the globe. In fact, she hopes no one misses her at all. This could be her golden opportunity to take out her arch nemesis.
Whitney returns home to find Roxy packing her things. She'll be staying with Sam for now but it seems that tensions have run too high and Roxy's on the run.

The City airs Tuesdays at 10:30/9:30c on MTV.
(Image courtesy of MTV)

Follow Gina at twitter.com/ginascarpa
For more MTV links, visit SirLinksALot.net