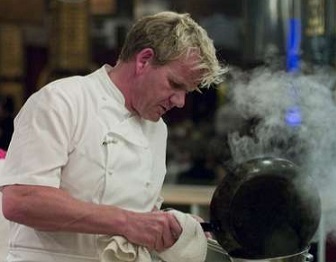 by Gina Scarpa
In the second hour of Hell's Kitchen, the teams are given 10 pound lobsters each and have to take a part of it to create their own dish. Chef Ramsay invites well known chefs and Michelin Star winners Josiah Citrin, Michael Cimarusti, and David Lafavor to help him judge this challenge. As they're ready to present, Ramsay tells the red team that one person has to sit out in order to even things up. Nilka mans up and admits that her dish is the weakest, taking herself out of the challenge.
Why do Hell's Kitchen challenges always come down to a tie, where the winner is revealed after a commercial break? Can't one team just decimate the other? When the guest chefs can't make a decision, Chef Ramsay decides the winner, choose the red team because Holli had the best dish "by far". She's definitely a contender to win the whole thing if she keeps cooking the way she does.
The red team will head out for caviar and a shopping trip, after they're given a thousand dollars to go to town with. Jealousy! The blue team had to clean the dorms top to bottom and then prep for dinner service. When the red team arrives back, Jay can barely concentrate on his work after seeing Holli and her new look. He admits that she can talk his pants off anytime, no alcohol needed. Bit too much info there, buddy. Let's just stick to cooking.
For dinner service, Gordy decides to have everybody cook in one kitchen, feeling that it will help her see who is going to emerge as a leader and a great chef. Dinner has to be completed because everyone is heading to the theater afterwards so everything must be done in 2 hours and 30 minutes.
Holli serves tableside, showing off her people skills. Jason's beef is perfectly cooked, while Nilka's fish is raw. Two seconds later, she drops something on the floor and is yelled at by Ramsay not to give up. He takes her aside to try to get her head back in the game but it seems like she's just having the worst night of her life. Everything she does is wrong and she's kicked out of the kitchen. Ramsay follows her out, screaming at her to take off her jacket.
Without Nilka, the other chefs step up to finish dinner service but she returns, begging for her spot in the competition back.  Ramsay ignores her completely and asks the other chefs to make sure she leaves.  It's a crappy and embarrassing way to go out.  You can't help but feel bad for her, regardless of her performance at dinner service.
As she heads out, Chef Ramsay waits for her in the parking lot to give her some words of encouragement.  Oh sure, build her up after you break her down!  
Just because the chefs were able to complete dinner service and Nilka was kicked out doesn't mean they're off the hook.  They still have to nominate two people for elimination, choosing Ed and Autumn.  Neither will be headed home, though.  Gordy congratulates each one on being part of the final six.  He loves to mess with people, doesn't he?
To find out what happened in the first hour of Hell's Kitchen, click here.

Hell's Kitchen airs Tuesdays at 8/7c on Fox.
(Image courtesy of Fox)

Follow Gina at twitter.com/ginascarpa
For more Hell's Kitchen links, visit SirLinksALot.net