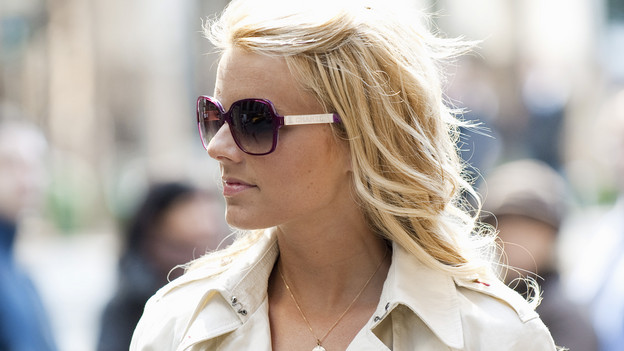 by David McAlpine
 
Last week on The Bachelorette, drama reached new heights as wrestler Justin became the latest punching bag on the hit dating show. As he was humiliated off the set, Craig became the latest casualty in the fight for Ali's heart, leaving just five eligble bachelors in the competition.
 
The latest stop on their tour around the world was Lisbon, Portugal, which was fairly overshadowed by the pending "break-up special" of Jake and Vienna. Chris starts packing on the pressure because, as we've all heard tens of time before, the final four guys each get a chance to take Ali to their hometown for that special one-on-one time. To up the ante, no one would be getting a rose on the individual dates, just the rose ceremony at the end. Suspenseful!
 
Roberto is up first as the "king" of Ali's "castle." Judging by the fact that there were castles everywhere in the 3 minutes of beauty shots of Portugal, it was safe to assume that one of them would be headed there. But first, Ali and Roberto spend some time paling around in the street, taking pictures and dancing like the cute almost-couple they are. Am I the only one who thinks this is getting a little old?
 
Now they head to the castle, and Ali is upfront with Roberto: she's confused and mystified by him. My first reaction was shocked, because how can you be mystified by someone who has been so nice and awesome to you this entire time? But then I realized we really haven't gotten into the nitty-gritty with our Latin lover. What is he about? He doesn't really answer her questions, either, he just compliments her and makes out with her, which seems to be ok with her.
 
Up next was Frank and Ty. Yes, you read that right: there are still two-on-one dates going on in this stage of the competition. And even though this one isn't do-or-die, it's still plenty awkward. And repetitive, considering they go to eat at yet another castle. Ali pulls Ty away first for some alone time to question him about his previous marriage and how he feels about marriage now--specifically about his views towards women and work. With his hand to the fire, Ty dances around the question, but doesn't really give a straight answer.
 
So now the door was left open for Frank to swoop in and steal Ali's heart. It was literally right there for him to grab…and he decides to use the moment to share with Ali that he still lives with his parents. You know those awkward moments where all you can do is suck in the air around you, hoping something will go away? Exactly what Frank did, and then some. But Ali took it in stride, considering at least she'd be able to work with Frank. You know, with Ty, she'd be stuck at home. Later on, Ali and Frank seem to get a little more cryptic, which leaves more to be desired from the viewers at home.

Kirk had date number three which, surprise, surprise, was at a castle. This time it was Kirk's turn to drop his mini bomb: his parents haven't met a girlfriend of his in almost three years, which prompted Ali to question the entire show. Her self deprecation only got worse later on at dinner when she said that she was worried she wouldn't be good enough for Kirk down the road. He said he cares about her, and she starts to believe him more, but it doesn't seem like it's fully there.

The final date is with Chris, who has this last chance to open up before he exposes her to his rocky family past (if she picks him to go on a hometown date with her). Apparently Ali sees him as a friend, so it's either pick up or go home for this one. But Chris was ready and raring to go, talking about everything mom, from her life as a nurse to how she lives now. But Ali still wasn't believing it.

After that, Chris and Ali hit up a winery (which, no, was not in a castle), where Chris made his final move: he gave Ali a bracelet that was homemade by a family friend. All of a sudden, Ali was sold and she's thinking husband material. Well played, Chris, well played.

Finally, it's down to the rose ceremony, where we all know it's coming down to Frank vs. Ty. Lo and behold, it's down to Kirk and Ty for the last rose, and I'm sweating bullets for my blonde hunk. Lucky for me, Kirk stays and Ty, the semi-chauvinist is sent packing.

But it's only 9:15! That's right, now it's 45 minutes of Jake vs. Vienna in the first ever Bachelor "break-up" special. How great that a show that promotes love is now helping it crumble before millions of viewers' eyes, too? Classy, classy ABC.

It came to an all out feud between Jake and Vienna with more and more dirty laundry coming up as the minutes rolled by. So much, in fact, that even Chris Harrison was left speechless during some of the silent moments. She even had the best zinger of the night: "Can we get a polygraph? 'Cause you would fail it!" Ouch.

Between Jake throwing a GPS out of sheer anger for no reason and Vienna's sudden turn to the good side by getting a job with a company that helps kids with cancer in LA (she hates LA, by the way), it was genuinely a mud-slinging contest which Jake lost miserably. Vienna had specific examples and came prepared with her homework done. Jake's response was little more than, "Be quiet while I'm talking!" All in all, he came off as downright crazy. I never thought I'd feel bad for Vienna, but now I kind of do. Who knew?

Tune in next week to ABC's The Bachelorette to see which guy gets turned down after he takes Ali home, Monday at 8/7c!

(Photo courtesy of ABC)

Follow David on Twitter at twitter.com/davidmcalpine.

For more Bachelorette links, visit SirLinksALot.net.