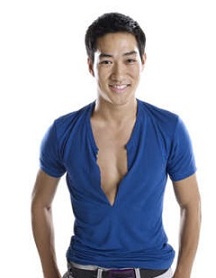 by Gina Scarpa
Last night, on So You Think You Can Dance, fan favorite Alex Wong was eliminated from the competition after sustaining an injury that will keep him from dancing for at least three months. During a rehearsal the night before he was set to perform, he tore his Achilles tendon and will have to have surgery on Tuesday. Given that he will not be able to dance, the judges automatically and unanimously decided to send him home but offered him the opportunity to return for season 8. Today, he spoke to RealityWanted and reporters in a press conference call about his injury and whether or not he'll return for season 8.

Q. Gina, RealityWanted: I loved you this season and would like a verbal confirmation that you'll be back for season 8!
A. Alex: I just have to wait and see what's going on with my injury and hopefully, I can continue.
Q. Gina, RealityWanted: Is returning to the show something that you want to do?
A. Alex: Yeah, it's definitely something I look forward to. I feel like I haven't finished my journey. There's so much more to learn so yeah, I hope to come back.

Q. What is the recovery process like for your surgery that you're having on Tuesday?
A. Alex: I'm not sure yet because I haven't been able to speak with my surgeon extensively yet. You have to be in a boot and, at first, your foot is sort of pointed and then they slowly flex it as the weeks go out so that your tendons tear. There's rehab after that. You're not supposed to push it too hard or it will tear again
Q. Did you know you were going to be leaving and what was that like for you?
A. Alex: Yeah, I knew I was going to be leaving because the night before, I was pretty sure I had split my Achilles in half. It was a long couple days to find out that it wasn't going to happen. I had such an amazing journey and I'm so grateful. Everything happens for a reason and I have to try to keep my chin up.
Q. Would you every try out for SYTYCD Canada?
A. Alex: I don't know. I'm not sure I'm allowed to.
Q. It's disappointing to leave but you were given a lot of praise, especially for that hip hop routine last week. Do you feel like you're leaving on a high note?
A. Alex: Yeah, I do. I feel like I accomplished a lot of what I set out to do but I feel like I wasn't finished. There's so much more I could've learned. Even though I had a few great weeks, it's just not enough!
Q. If you had stayed, what dance style were you looking forward to trying?
A. Alex: This week, the night before, I had Fox Trot and Bollywood so that was all ready to go. I would've loved to have gotten Latin ballroom or anything! I'm up for all the styles because there's nowhere else you can do that and that's why I came to the show, to learn. I would've loved to dance with every single all star. They're amazing.
Q. The contestants seem very close this season. Were you surprised by how quickly you bonded with them?
A. Alex: It was not something I expected. I would assume we would get cloes but this season was special. With so few of us to begin with, it was the luck of the draw when everything was amazing. The contestants are the most amazing people and we get along so well. That's the hardest part for me is leaving them.
Q. Have you found the silver lining yet?
A. Alex: Not yet. I'm sure it will come up, hopefully sooner than later. I do believe everything happens for a reason and it hasn't failed me yet. I'm very grateful.
Be sure to tune in when the Top 7 take the stage on So You Think You Can Dance, Wednesday at 8/7c on Fox.
(Image courtesy of Fox)
Follow Gina at twitter.com/ginascarpa
For more SYTYCD links, visit SirLinksALot.net