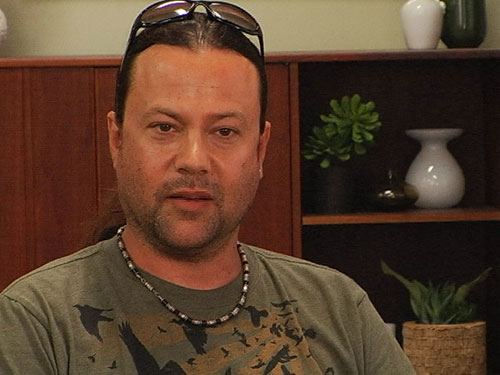 by Jackie Helm
Last night on Sober House, the residents seemed to have squashed the beef and were moving on. However, house manager Jenn didn't bounce back that quickly.  The nasty house and lazy, ungrateful addicts were on her last nerve.  Nno matter what Jenn said or did, it didn't seem to spark the cleaning bug in anybody.  During the morning group meditation, Jenn lashed out about the dirty house and the residents' behavior.  They all sulked like scolded children.  Heidi Fleiss spat back for Jenn to pray for them.
Not two hours later, Tom Sizemore spilled chips all over the floor. Nobody was looking so he just left them there!  Jenn appeared later and cleaned it up.  When Mike asked Jenn what was on the agenda for the day - the drama began.  Jenn told him to clean his room and then repeated it another hundred thousand times.  Naturally, Mike rebelled and the whole scene was out of control.  Jenn literally followed him around the house and the two angrily went back and forth until Mike finally left.
Dennis Rodman had a court appearance for an old domestic violence issue.  He was given 25 hours of community service.  A TMZ reporter followed Dennis out of the courtroom and asked him what was next.  Dennis fronted like he was about to kick it!  He said he was going to do it Rodman Style (work, the gym and then on to look at some ladies).  You liar Rodman, you're going back on lock down at the Sober House!
Dr. Drew made another attempt to make Dennis take life seriously.  He showed footage of a drunk Dennis saying some dirty, nasty stuff to some females. Dennis was totally aloof but eventually admitted that there are times he feels guilty when he does things like that.  Dennis finally seemed to get the point that being drunk all the time is not cool.  He said that he isn't going to make any promises to stay sober, but he won't let alcohol kill him!
Dr. Drew gathered the residents to discuss the Jenn/Mike incident.  Mike told his side and the rest complained of Jenn's negativity.  This led to a sit down with Dr. Drew and Jenn.  He replayed the incident on a televsion and paused at each scene where Jenn should have acted differently.  Basically, Jenn's actions were out of hand and she was lucky that Mike was able to handle the situation without losing it.
In a last attempt of defense, Jenn repeated that Mike wouldn't clean his room.  Dr. Drew suggested that Loesha (rehab tech from Celebrity Rehab) join forces and help Jenn with the 'going-ons' of the house.  It was obvious Jenn felt defeated by the fact that she needed help, but she welcomed Loesha with open arms.
Next week some random chic is in the house and she's HIGH!
Sober House airs Thursdays at 9/8c on VH1.
(Image courtesy of VH1)