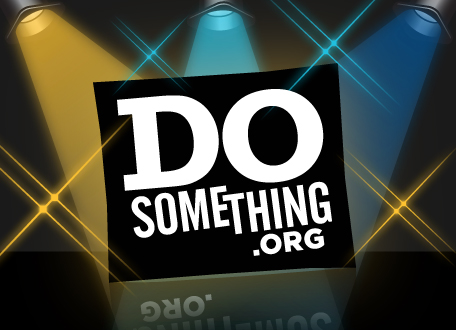 by Danae Young
This week the winners of all five seasons of America's Best Dance Crew came together to raise money for charity.
Dosomething.org is a website where young people can find the tools to get involved to help a cause. Each of the five crews has to choose a cause from dosomething.org to dedicate their routine to. They are honoring five different individuals.
The show started out with a medieval theme to introduce the five champions. Each crew performed a small routine and came together on stage for a group dance.
Each charity also receives $10,000 on behalf of America's Best Dance Crew.
Poreotix was excited for their chance to give back to the community. They chose Jackie Rotman, who created "Everybody Dance Now," which is an organization created to help underprivileged kids learn to dance. The performance was an "Alvin and the Chipmunks" theme that went hip hop. JC Chasez said they are already acting like champions and thought the theme for their dance was perfect for the children's charity.
We Are Heroes showed their girl power by supporting a charity called "The Sparkle Effect" created by Sarah Cronk. The charity inspires high schools to have cheer squads for people with disabilities. From women action figures to Barbie dolls, each girl in We are Heroes fulfilled a different character. Lil Mama said they always turn it up on stage and congratulated them on being the first female crew to win America's Best Dance Crew.
Quest Crew dedicated their routine to Jordan Coleman for the film he created called "Say It Loud" that brings awareness to the importance of education to young people. The dance took the audience back in time to when film first existed. This was Omarion's first time seeing Quest Crew and he seemed somewhat speechless at first. He loved their choreography and tricks.
Super Cr3w helped raise awareness to HIV by supporting Marvelyn Brown and her charity called "Marvelous Connections." Marvelyn contracted HIV after having unprotected sex with a boyfriend. She travels the world sharing her story with people to raise awareness to and help fight HIV. Super Cr3w brought back being a crew on the streets in their performance dancing on the streets next to a brick wall and trash cans. An 8-year-old boy made a special appearance in their performance breaking it down better than Super Cr3w! Lil Mama said the boy stole the show. She thinks Super Cr3w is off the chain and thought they were very on point.
To finish off the show with a bang, the JabbaWockeeZ performed to help Joshua Sundquist for creating "Less Than Four," which is a website for amputees to get together and meet others like them. Josh was diagnosed with cancer as a kid and lost his leg and is now an amputee himself. There was a huge JabbaWockeeZ mask with glowing red eyes in the middle of the stage for their performance.
JC Chasez gave thanks to everyone for coming out for tonight's show and said this was his favorite episode of America's Best Dance Crew.
(Image courtesy of MTV)
 
Follow Danae at twitter.com/danaeyoung
 
For more America's Best Dance Crew links, visit SirLinksALot.net