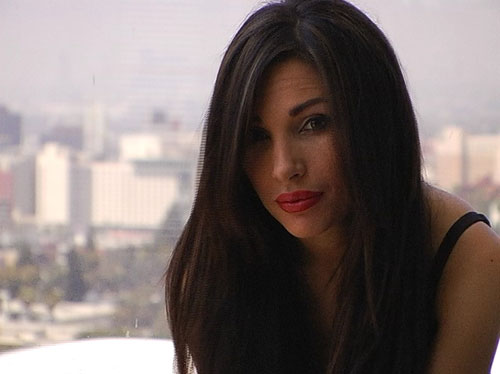 by Jackie Helm
This week on Sober House, we waited all week to see if Tom Sizemore and Mike Starr really duked it out.  It was a no show as no punches were thrown and the boys were broken apart.  Dr. Drew made a special daddy trip to the house to get the residents back in check.
It was obvious to everyone that it was Heidi Fleiss' immature actions that triggered Tom to flip out.  When Dr. Drew talked with Heidi, he STILL beat around the bush as to what she was doing.  She STILL brought up that Tom hit her in the past.  Then she blamed her court issues as her reason for getting high while out of the house.  I'm pulling out my hair.  Why doesn't anyone speak up and give Heidi a piece of her mind back?  Tom was relieved when she had to spend the night elsewhere to detox from her meth relapse.
Tom apologized to Mike for the confrontation and they sealed the make up session with a heart felt hug.  Dr. Drew talked to Mike about cursing everyone out.  He noted that methadone withdraw can take from 30-90 days!  But it's no excuse!  No more "F$#% You's" Mike!  Mike promised to chill and all was well...for a moment.  Kendra was overly affected by the chaos and needed to be taken to the side for a breather.  Hmmm...a little dramatic eh, Kendra?
Hot tub fun!  Kendra and Seth were playing "slap each other in the face with a banana peel".  It's all fun and games until someone gets turned on.  Jenni (f.k.a. Penny Flame) asked them to stop.  Apparently, the act of hitting triggered Jenni's past of being a dominatrix in the porn flicks she starred in.  She explained, "If I drink one drink I am going to drink the bar, if you slap me with a banana, I am going to punch you in the face and we are going to f#@%".  Um????  Kendra and Seth paid Jenni no mind and continued beating each other w/ banana peels anyway.  Jenni eventually dismissed herself.
Adventure time!  The residents were woken bright and early from Jenni shouting "waterfalls" over and over and over and over.  Perhaps this was an exertion of her sexual frustration from watching the banana peel fight the night prior.  Whatever it was, she irritated the entire household.  The crew journeyed to the mountains and the lesson of the day was to have fun without getting high.  They strapped up and climbed down the waterfall/mountain backwards.  Most had fun but Kendra called everyone crazy.  When Jenni called Kendra, "Kari Ann" (for being negative) Kendra got gully real quick.  Although Kendra was previously affected by the confrontational drama at the house, she had no qualms with threatening to knock Jenni the F$#% out!
Later at the house, (house manager) Jenn feels the need to put her foot down.  The residents are getting too cozy for comfort.  No hour is complete with out Mike requiring regulation.  Jenn had to chase him out of the house with his lit cigarette…again.  As expected, Mike reneged on his promise to chill and mouthed off at Jenn.  When Jenn "reminded" Seth to take out the trash, the convo got heated and the two had it out!
This exhausting day at the Sober House left Jenn in an understandable emotional state.  Dr. Drew said that he was worried about her being able to manage this mad house all alone.  Next week Mike is up to his old tricks and even worse than before!  But it appears that Jenn is the one who gets reprimanded!
Sober House airs Thursdays at VH1.
(Photos Courtesy of Vh1)