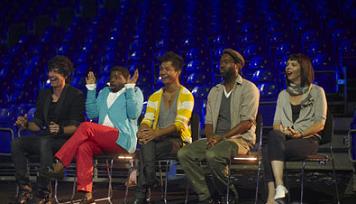 by Gina Scarpa
Tonight, on Project Runway, the final five designers pay a visit to the Ringling Bros. Barnum and Bailey Circus. Jay was a little thrown off by the shirtless men performing for them but I'm sure there's a lot more to this show for them than just entertainment value. Yes, of course it's a challenge. They'll have to create an outfit inspired by the circus. Good luck making that fashionable, people!
As the designers shop at Mood, we're reminded by Seth Aaron that this is the last challenge before the final four make it to Fashion Week. They'll also have two days for this challenge, which I'm sure is a huge sigh of relief for everyone. Now, they can take more time and perhaps go even bigger with their looks.
Emilio's overconfidence this season has really ended up rubbing me the wrong way. I think his ego takes up the entire workroom and we all would probably appreciate a more humble approach. Though I have mostly enjoyed his work this season, I almost hope he ends in the bottom group tonight just to shut him up and put him in check.
Tim makes the rounds and there is certainly a lot of black, white, red, and gold in the room, with the exception of Anthony. He worries that Seth Aaron is going to costume-y and gets pretty heated with Emilio for his lack of color. It's rare that Tim gets riled up so he must be concerned! It seems Anthony is headed in the right direction and Tim encourages him to stay true to himself and not force his look. Mila's look is enhanced by Mr. Gunn's advice but Jay doesn't get much feedback to go off of. Hopefully, for him, that's a good sign.
Tonight's guest judge is fashion designer Cynthia Rowley. After the runway show, the designers are grilled about their looks and why they deserve to go to Fashion Week. They're asked who they want to bring with them and it's clear that maybe some personal feelings are involved because nobody said Mila except Emilio. There's certainly a lot of emotion in the room, understandably, and the judges debate who is moving on and who will be headed home.
Emilio is this week's winner and, much as I can't stand his attitude, his dress was far and away the best. He says he's humbled by the win. Dude, don't lie. Seth Aaron is also in and headed to Fashion Week. Feeling that Anthony needs to mature as a designer, he is eliminated. Mila and Jay are in... sort of. They'll create their collections, but only one of them will compete at Bryant Park.
Project Runway airs Thursdays at 10/9c on Lifetime.
(Image courtesy of Lifetime)

Follow Gina at twitter.com/ginascarpa
For more Project Runway links, visit SirLinksALot.net