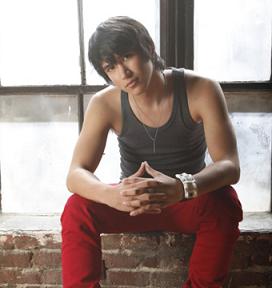 by Gina Scarpa
This week, on So You Think You Can Dance, it must have been hard for America to decide who to vote and who to ignore.  Each of the Top 10 dancers had stellar moments on stage, but it also beomes about personality and who is able to connect with the audience.  Kathryn, Noelle, Nathan, and Ryan received the least number of votes and danced for perhaps the last time for America.  When the results were revealed, it was Noelle and Nathan who were headed home.  Today, Nathan spoke to reporters in a press conference call about his experiences on the show.
Q. Gina, RealityWanted: I felt like Nigel was so tough on you this season.  Do you wish he would have lightened up, or did you understand where he was coming from?
A. Nathan: I understood where he was coming from.  I pick up corrections really well.  So, if he does have criticism, I'll fix it right away.  It's just sometimes things could be handled better, but you never know and it was wrong on my part to say some of the stuff I said.  And yeah, I mean he's basically making me grow up and it's tough love.  I'm 18, so I finally have to experience this.
Q. Gina, RealityWanted: I loved your Broadway routine, and I was wondering if you have thought about doing that kind of thing.
A. Nathan: I love having my doors open, and if there's a job where I get to do Broadway, I would love to do that because Broadway is just very pleasant to do.  It's always nice not to be so serious, and just to have a good time and it's always nice to entertain people and that's part of being a performer, so I would love to.  If I got offered a Broadway job, I would take it.
Q. Was your brother Mikey a big influence on you?  And working with Twitch some, has that been an influence on you, too?
A. Nathan: Completely, because it's just really nice to have a family member able to do the same thing that you do and you know, especially when I look up to my brother, and he is telling me, "Hey, dancing is a real thing you can pursue as a career".  Of course, I'm going to be like, this is going to be really cool.  Having that being said, I eventually went from one class to two classes a week to… until I was dancing every day and then I got to meet Twitch on the way in.  Twitch is my close friend, too and he is doing well and it's just really nice to have a humble guy become successful. 
Q. Give us an overall perspective on what is Mollee like as a person and as a dancer.
A. Nathan: She is very bubbly.  She's just very positive and it's just really nice to have the energy around when you're trying to pick up a dance style, because you can't always be serious.  You have to always enjoy life, because sometimes people do get caught up with the idea of dancing and take it too seriously and you always need that one person to remind you that this is something you love doing, so it's just really nice to have her around. 
Q. Do you think that your partnership with Kathryn helped bring out some maturity in you?
A. Nathan: Kathryn has a closer personality to mine, and so it was a lot easier to finally connect to someone that like- because her and I have the personality to be really reserved.  So, the fact that we were on the same page all the time was nice to be able to bond quicker, because we only had a short amount of time and we needed that, especially when we were getting new partners.  So I believe that she did.  I was in a nutshell, so I had to break out of it in order to show America this is really how I am.
Q. Was there a dance this season that you thought helped you break through to get into that top ten?
A.  Nathan: Really, when it comes down to it, my perspective, I love to the Bollywood dance and that was towards the beginning and it was something where I finally got to learn about the Indian culture, and not just dancing.  I got to learn about the history of it.  And I believe that was another thing for me to appreciate, because a lot of people get stuck in one genre and it's just always nice to have that around. 
Q. Since you're so young and given how many times the judges kind of criticized your immaturity, do you ever wish that you had waited a couple of years to compete for the show?
A. Nathan: I don't wish that I went later because this show actually sped up my process of learning.  Because now that I know that I'd done some stuff wrong, I can finally take advantage of the fact that I both corrected for it and applied it to when I audition and so, yeah it makes it a lot easier.
 
Q. What else besides, if you get offered a Broadway job, what else is next for you?  Are you going to stay in L.A. and audition or maybe move to New York?
A. Nathan:  I'm going to stay in L.A.  I love L.A.  It's nice weather, first of all, and it's just all of my friends are from L.A. and I know a lot of choreographers, so I think it would be the best lifestyle to live in.
Q. What did you learn from being on the show?
A. Nathan: I learned that I have the love for ballroom now, when it comes down to it.  Ballroom is such a… it's a big world out there for ballroom and I didn't know that.  I was always more into the competition for contemporary and jazz, and I didn't know there was another world like ballroom.  So, now that I was opened up to it and I got a chance to do rumba and salsa, now I want to start pursuing that, after the tour.
Be sure to tune in when the Top 8 take the stage on So You Think You Can Dance, Tuesday night at 8pm ET on FOX.
(Image courtesy of FOX)
ALSO SEE
So You Think You Can Dance Season 6: Conference Call with Noelle Marsh
So You Think You Can Dance Season 6: Top 10 Elimination Recap
So You Think You Can Dance Season 6: Top 10 Performance Recap

Follow Gina at twitter.com/ginascarpa
For more So You Think You Can Dance links, visit SirLinksALot.net