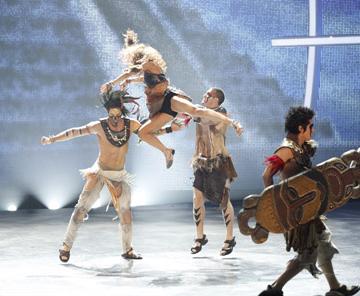 By Lindsay Strouse
After a delay from Barack Obama's presidential speech, So You Think You Can Dance began at 8:30 for a jammed packed show with our Top 10. From now on, the dancers' fate is all up to America, with the two dancers polling the least votes getting sent home each week. Tonight each new couple danced two separate styles along with a solo in their own style. Along the way we learned a little more about where our contestants came from and what inspired them to dance. Here's how the night went:
Dancers: Noelle Marsh and Ryan Di Lello
Style: Hip Hop
Choreographer: Tabitha and Napoleon D'Umo
Song: "Give It To Me Right" by Melanie Fiona
There was some kind of sexy office business going on in this routine and I liked it! Sure, they could have been a little sharper here and there, but Noelle and Ryan were so into their characters it didn't matter. Noelle previously got criticized for being "too sweet," but she broke out of her shell this week to bloom into a stunningly sexy dancer. While Ryan's character required him to be strong, it took away from his musicality and movement within the music. I can already see how much chemistry is growing between these two—it's too bad he's married.
Dancers: Ashleigh Di Lello and Legacy Perez
Style: Contemporary
Choreographer: Gary Stuart
Song: "Poison" by The Prodigy 
Me and the judges didn't exactly agree on this one. Personally, I didn't understand it and thought it was just a bunch of jumps and rolling around on the ground. Granted, it still takes a lot of physical strength and stamina, I just didn't like it. The judges, on the other hand, loved every moment of it. Even though the piece was so difficult, the couple attacked it with no fear. I was very impressed with the ending pose of Legacy ended upside down on his head, though. I don't understand how he doesn't get hurt doing that!
Dancers: Kathryn McCormick and Nathan Trasoras
Style: Broadway
Choreographer: Spencer Liff
Song: "Choreography" by Danny Kaye
The dance was adorable and the couple fit the style absolutely wonderfully. Although I don't think their chemistry was that good, they worked well with the piece (Nathan's fake smile actually fit in!). Maybe it's because I just don't like Nathan, but I still don't think he is growing in this competition nearly as much as the other dancers. However, Kathryn continues to impress me and the judges. She makes all her movements look effortless while maintainig her exquisite technique.
Dancers: Ellenore Scott and Jakob Karr
Style: Quickstep
Choreographer: Tony Meredith and Melanie Lapatin
Song: "Four Brothers" by Manhattan Transfer
Holy moly! Even though they were completely out of their element, Ellenore and Jakob knocked this one out of the park! Not that I'm surprised—Jakob is basically Superman. They put on a great performance and had fantastic chemistry with each other. According to Mary Murphy, Tony and Melanie put in some tough movies, but Jakob and Ellenore conquered even the hardest steps. They even included a couple timesteps for our three fallen tappers (so NOW they put some tap on the show!). I'm not worried about these two one bit.
Dancers: Mollee Gray and Russell Ferguson 
Style: Lyrical/Jazz
Choreographer: Mandy Moore
Song: "It Must Have Been Love" by Roxette
Moving on from Nathan has done wonders for Mollee. More than wonders. The couple created beautiful body lines together and used their natural chemistry to complete the classical lyrical/jazz routine. The maturity of Mollee's work over the past week is grown over the charts, leaving everyone extremely impressed. The passion and trust Mollee and Russell shared on stage was so believable that they easily became Mary's favorite couple of the night.
Dancers: Noelle Marsh and Ryan Di Lello
Style: Smooth Waltz
Choreographer: JD and Thomas
Song: "Jeaux D'eau" from Cirque du Soleil
Ryan always proves to be a good partner and was there for Noelle every step of the way as they glided across the stage. They're bodies moved perfectly in time with each other and their performance was outstanding. The quality of their movement was fabulous and the footwork seemed effortless. The only negative I can say from this performance was that Noelle did seem a bit stiff at various moments. She's grown everywhere else, I have no doubt she will get past this.
Dancers: Ashleigh Di Lello and Legacy Perez
Style: Hip Hop
Choreographer: Dave Scott
Song: "Slow Down" by Bobby Valentino
Oy vey. This did not work. I love Dave Scott more than words, but this freaky vampire routine just wasn't good. It was partly Dave's fault, but the blame still comes back to Ashleigh and Legacy. They weren't that syncopated and they could have hit a lot of their movements harder. I don't know what exactly it was missing, but I was left feeling very unsatisfied with the routine. Adam Shankman thought part of the problem was that the routine simply wasn't challenging enough for them, leaving them at a level below the other dancers.
Dancers: Kathryn McCormick and Nathan Trasoras
Style: Rumba
Choreographer: Tony Meredith and Melanie Lapatin
Song: "Walk On By" by Aretha Franklin
Okay, now I'm beginning to see the chemistry! Apparently the judges didn't, but I see something in these two. They danced well with what they were given, but I wish there was more actual dancing throughout the piece. However, during the moments of stillness, Kathryn has a unique ability to capture the images with her extensions and lines. Despite all this, the judges didn't believe their chemistry and passion which is very important when dealing with dances such as the Rumba. Hopefully their solos will be enough to save them.
Dancers: Mollee Gray and Russell Ferguson 
Style: Jive
Choreographer: Anya and Pasha
Song: "Land of 1000 Dances" by Wilson Pickett
I love watching the dances choreographed by previous contestants because they always seem to be the most fun, and this is certainly no exception. It was a great way to close the group numbers with the phenomenal performances given by both Mollee and Russell. They really got into the swing of it and showed that they loved what they were doing. This pairing seems very promising—especially for Mollee—and is already showing the playful, fun and respectful nature of their relationship.
Dancers: Ellenore Scott and Jakob Farr
Style: Contemporary
Choreographer: Sonya Tayeh
Song: "Tore My Heart" by Oona
Nigel has said it twice already, but he swears that this is really his favorite routine of the season! He called it the sequal to Sonya's Season 5 dance to "The Garden." I don't blame him. It was danced with so much passion and fire and produced such an amazing result. Ellenore and Jakob just raised the bar so much higher in every aspect of the show it is ridiculous. I honestly have no words for how talented these two dancers are. Jakob's developpes are mind-boggling. I have just one question, why the hell are these two not on the Hot Tamale train yet?!
Interspersed between all the couple routines were the Top 10 solos in their own style. Here's how they went down…
- Mollee starts off the solos with a bang. How that girl can be so flexible in a pair of tight jeans is beyond me.
- I love that Russell gets to perform a solo because I almost forgot how amazing he is at his own style. The amount of strength he is is absolutely incredible.
- Noelle is impressing me more and more with her dancing. She had this wild joy releasing from her throughout her solo which brought a huge smile to my face.
- Dear Ryan, will you ever wear a real shirt? Yes, he is good at what he does, but I'm starting to get the feeling that he is a bit full of himself on stage. I still love him, but I wish he gave a me a bit more.
- Kathryn is simply beautiful when she dances. Her technique is breathtaking and the control and energy in all her movements is phenomenal.
- If anyone can turn in this competition, Nathan can. I wish he danced for more than 30 seconds so I could see why he was getting so emotional though because I didn't get it. Maybe I'm wrong, but it seemed a bit forced to me.
- Being a weirdo myself, I love watching Ellenore dance. She always gives a memorable performance and sets herself apart from the other dancers in her style.
- There Legacy goes with his crazy "crab walks" again—not that I'm complaining! I love this kid. He is incredible in what he does and defies gravity with every oen of his movements.
- Ashleigh is truly amazing at Latin ballroom. I have no idea how she moves her feet that fast with that much precision, but it looks pretty darn good to me. (She might want to invest in some new costumes though).
- Oh. My. God. This is what I've been waiting for all season. No, in all the seasons. I have never seen a solo so passionate and beautiful as Jakob's. Whenever I watch him, I want to get off of my couch and join him. Between his sincerity and his beautiful extensions and lines, he can't go wrong in this competition.
Tune in tomorrow night, December 2 at 8 PM ET to find out who America has chosen to leave and who will remain on So You Think You Can Dance.
(Image courtesy of FOX)
For more So You Think You Can Dance Links visit Sirlinksalot.net