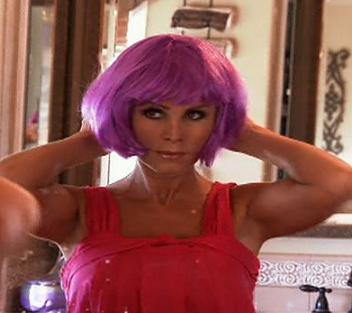 By Chandra Clewley
"It's All About Choices"
This week on The Real Housewives of Orange County, Vicki plays matchmaker for her daughter Briana. Briana broke up with her longtime boyfriend Colby last season. One of Vicki's colleagues has a son named Chris, and he is flying out from Indiana to visit and meet Briana face to face. Briana and Chris hit it off at first, but things fizzle out. Maybe it's because everything poor Chris wants to do Briana "hates". He wants to see LA, she "hates LA". He makes small talk and asks is she likes coffee. She "hates coffee". He mentions sushi. Guess what Briana hates? Sushi. What a bore! 
Vicki throws a barbeque to welcome Chris. Tamra and Simon come over. Simon and Ryan (Tamra's son) haven't spoken in over six months, because Ryan took one the cars without asking while he had a suspended license. He then started a Facebook war, and Simon is not forgiving him unless he apologizes. Ryan isn't even allowed in the house at this point and later in the show he has lunch with Tamra and lets her know that he is going to jail for five days for driving on a suspended license. Tamra is torn up about the conflict between her husband and son as well as the fact that she just wants Ryan to land on his feet.
Alexis and Jim celebrate their 4th anniversary and Alexis admits that Jim has never changed a dirty diaper. He is her "king". During dinner, Jim asks her what she did that day, and when she tells him that she went for a run but didn't have time for the gym, Jim chastises her "busy" life getting her hair done, her nails done and going to the gym. Of course he doesn't chastise himself for the fact that he expects her to look like she does and that takes some work and time…women don't just get out of bed skinny, blonde, tan and perfect without working their butts off for it!  For her anniversary, she gets a 7 carat diamond necklace…oh, that's why she takes his crap!
Lynne and Frank have moved the family and their youngest daughter Alexa is having a hard time. They get a "youthologist" to counsel the family and she helps motivate Raquel to get back into art which is her passion , and Alexa to express herself to her mother. 
Gretchen flies to Michigan to visit Jeff's kids Jill and Jake. Since their father has passed away, both of the kids have been in a little trouble, but it seems it is just them trying to deal with their loss. They show Gretchen the cemetery where they will put their half of Jeff's ashes. The kids know about Slade, and think that Jeff would have wanted Gretchen to move on and not to be sad. 
Tamra throws a Bunco party where the girls wear wigs and have to take shots when they get Bunco. Tamra calls it "Drunko". Tammy Knickerbocker (yay! Love her!!!! Come back Tammy!!) and Quinn Frye come to the party as well as Alexis. The girls get wasted. It looks like fun, Drunko for everyone!
Catch an all new Real Housewives of Orange County next Thursday night at 10 p.m. on Bravo. 
(Images courtesy of Bravo)