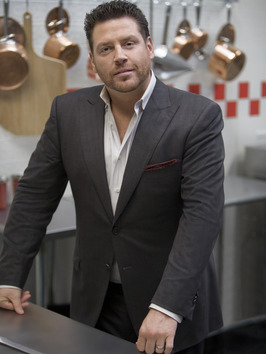 by Chandra Clewley
Producers from Food Network and The Next Food Network Star have done it again with their new show 24 Hour Restaurant Battle which premiers Wednesday, July 21st. There will also be a sneak peak episode airing on Sunday July 18th, after The Next Food Network Star. The show takes two teams of two, with or without restaurant experience, and pits them against each other to see whose restaurant will be a five star and whose will be an epic fail. The judges rotate through the season, including such illustrious celebrity chefs as Jason Denton, Geoffrey Zakarian and Marcus Samuelsson  of Top Chef Masters Season 2 fame. Today, host Scott Conant sat down to talk with Reality Wanted about what 24 Hour Restaurant Battle is really about.
Q. Tell us a little bit about the show.
A. Scott Conant: The show is essentially two teams of two that have to open up a restaurant in 24 hours. It is pretty interesting and a lot of fun! We have a huge space and we basically cut the space in half and each team opens a restaurant there on either side of the room. The teams create a concept, design a menu, design a room, they have a $4000 budget to create this, and then they are off to the races. It is like a race to the starting line because then you have to serve up to 100 people once the restaurant opens. It is a lot of struggle and fun, there are people who really nail it, and there are a lot of surprises, even for the judges. 
Q. Chandra, Reality Wanted:  Can we expect to see the show eventually travel from the east coast?
A. Scott Conant: I'm not sure.  I love the West Coast and I would love to travel there so I would love to see that happen.
Q. Chandra, Reality Wanted:  What type of advice would you give to a person that is thinking about trying out for the show?
A. Scott Conant: There are definitely strong personalities that are on the show. You need a strong personality to open up a restaurant; if you are meek you won't succeed because there are so many things to do constantly.  There are so many sets of muscles needed to execute something. Be bold, and bring it. 
Q. Chandra, Reality Wanted: The judges rotate. What is your experience with all of the different judges?
A. Scott Conant: What I found with the different judges is that people that look at the restaurants from the restaurateur perspective, the chef perspective, the front of the house perspective, whatever it is, seem to have somewhat differing opinions of the way that the restaurants worked with certain elements of the quality of the restaurant than the marketing and PR side of it. We didn't have any issues at the judges tables, although Gabriella and I did disagree on one dish, but other than that, it was really interesting to hear how a marketing person thinks about the same restaurant  than the people that are in the trenches.
Q.  There are teams of two. You would assume that one is in charge of setting up the aesthetics while one sets up the menu (and the back of the house). What is the more difficult of the two roles?
A. Scott Conant: I don't know if you can think of each one as being more difficult than the other. They are two completely different sets of muscles. It's really hard to set up a dining room. Putting together a menu is not just the food; the menu is a little piece of your marketing plan. People need to figure out what that restaurant is just from that menu. When they look up from the menu and see the décor there needs to be something from the menu that is in perfect sync.  So, I'd say of the two, I would choose the kitchen, it's not easier but it is a nice place to hide. I think it is more difficult to deal with the customers as well. It is really difficult to keep that smile on your face because you are always on that stage.
Q. Do you have a specific "go to" piece of advice for the contestants?
A. Scott Conant: I do! I tell them that the complete and full execution of simplicity is for me the ultimate sophistication, at the end of the day it is all about honing the simple things that make a restaurant great, if you execute that to the full ability, you wind up with something spectacular. The second thing I tell them all the time, there is a promise that you have as a restaurateur, that when people walk in that door, the reason why they go there is for the experience. You have to provide them with that experience and make sure that you follow through on every element and every detail of what that experience is meant to be. 
24 Hour Restaurant Battle premiers Wednesday July 21st on Food Network! 
(Image courtesy of Food Network)
Follow Chandra at http://twitter.com/ChandraClewley