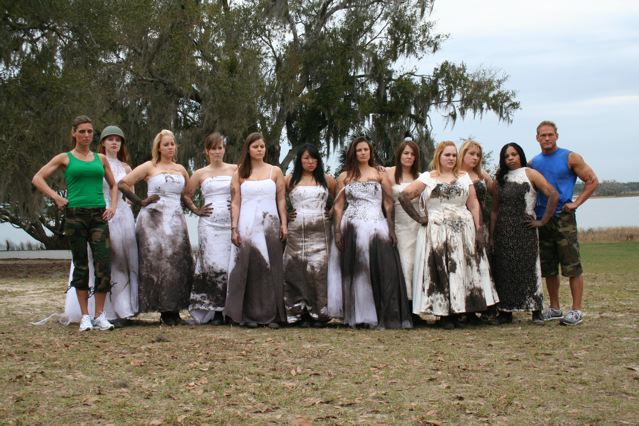 by Bonnie Pfiester




It's the 6th week of Bridal Bootcamp and it's down to 4 contestants – 2 blue team and 2 on the green team. Francesca keeps taking things up a notch with her training and Steve does as well. This episode is one of Steve's favorite episodes because he gets to have his baby with him.

No, I don't mean the kind of baby with diapers – I mean the kind that rolls on big tires! Steve is always dreaming up crazy workouts and in this episode he decides he's going to have his 2 girls pull his big Ford Excursion on a dirt road by camp. Not only are they going to have to pull it, they are going to have to push it back to where they started. He was shocked at his girls' power and strength, and so was I!

The Maritial Mission was back to competing as Teams – Amberly and Jamie on the Blue Bridal Party, and Melissa and Kacey on the Green Bridal Party. This episode's Marital Mission was called 'Surviving the Highs and Lows'  - and boy, is this one roller coaster ride.

The two teams face one of the biggest walls yet – literally. As the approach Cynthia Conde to discover their mission, they find themselves facing a 40-foot rock wall. Cynthia goes on to explain they will be performing a "Bouquet Relay" where they will have to race to the wall, scale the wall (despite their fears), attach to a zip line and go flying down from the sky to pass their bouquet to their teammate where they will follow the same course.

Once again, Green Team gets the advantage by answering their fiancé's question right. I feel like a broken record, blue Team has YET to get an advantage. Luckily for them, the Blue Team Amberly flew up the wall making up for their 20-second delay. Both Amberly and Jamie 'rocked' the relay, winning the challenge.

I have to admit – if it was me, I'm just not sure if I could have been that willing to dangle 40 feet up in the trees. I'm so scared of heights I would have DIED! I also heard Kacey flew up that rock wall faster than anyone, so I think they all deserve a round of applause.

Funny how I didn't notice Cynthia ever disclosing the prize they were fighting for. After the Blue Team won, Cynthia had all the girls turn around. Amberly and Jamie squinted, trying to figure out what they were seeing. Turns out, they were looking at their brides maids waaaaay far way on the very rock – and they zipped right down to see them. What a reunion. I can only imagine how excited they were to see a familiar face!

The hardest part for the Green Team had to be knowing their brides maids were on the other side of that wall waiting for them to win - and they weren't able to see them. I know that had to break their hearts. Boo!

Not only did the Green Bridal Party miss out on visiting with their brides maids, they faced the fitting room once again. We're getting down to the nitty-gritty now. I mean, who wants to see any of these girls go home? Melissa has definitely shown she has the determination and discipline to go the distance and sweet Kacey has so much heart and obviously wants her dream wedding. Regrettably, Kacey is sent home and we will not be graced with her entertaining facial expressions any longer. Kacey, you made me laugh so many times!

So now we're down to Amberly and Jamie from the Blue Team and a lonely Melissa on the Green Team. Competition is stiff and who knows who is going to win their dream wedding now! Until next time…

Visit www.vh1.com and join me on twitter, www.twitter.com/bonniepfiester, or on facebook, www.facebook.com/bonniepfiester, for up-to-date news and more on Bridal Bootcamp. For information about Steve's boot camps, visit www.StevePfiester.com. Steve also leads weekend boot camp retreats at Gloria Estefan's Florida beach resort for those of you who would like a crash course on getting fit. For more about his retreats, recently featured in Fitness Magazine, visit www.aboutfaceretreat.com.