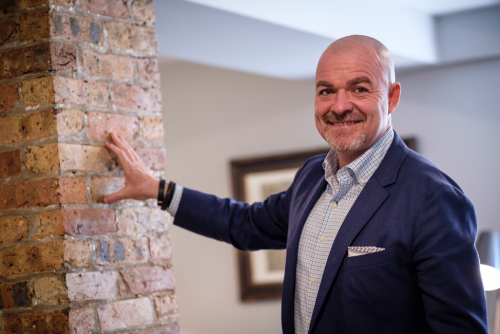 The season two finale of "The Deed: Chicago" airs tonight on CNBC. In an interview with Reality Wanted, the host and investor of the series, Sean Conlon, shares with us the best and worst moments of the season as well as updates on projects from previous episodes.
Reality Wanted: How did your deal work out with the "Bungalow Kings" Mike and Liviu from last week's episode? 
Sean Conlon: Well it worked out so well that while I initially interpreted Liviu as being a smart alec, I realized he is wickedly intelligent. Liviu now works on $50 to $500M real estate deals at Conlon & Co. Real Estate Merchant Bank. The bungalow king got promoted to being a warrior. 
RW: You've clearly developed great instincts about general contractors in your experience, and that showed when you worked with Robin. You appeared to know something was amiss with her GC, Q, but agreed to the deal and let her learn the lesson where she did eventually have to fire him. Are you happy with how it worked out or do you wish you could've helped her avoid the trouble to begin with?
Conlon: Robin was incredibly loyal which is commendable, but she was also a great businesswoman and realized she needed to make a change before it was too late. It played out just as well as you could have hoped. 
RW: In the season finale, you work with a first time flipper, Latitia, in what seems will be one of the toughest flips this season. What can you share with us about the final episode? 
Conlon: In the season finale, you will see the classic Houdini general contractor. And in this crazy world we live in, sometimes it's nice to be compassionate. You'll see Latitia is a model of integrity - a truly amazing person that I really enjoyed working with.
RW: What have been the best and the worst moments of this season for you so far?
Conlon: I love the success story of Marcello and Cecilia. Marcello's story was inspirational by how he was able to truly turn his life around.
Latitia definitely gets the award of the season for "owning it."
And when I really make it someday, I'd love for Caren to design my house.
RW: When we last spoke, you mentioned some of the strong women you've worked with this season, like Caren and Cecilia. What do you say to advise and encourage women who are interested or just beginning in the home flipping business? 
Conlon: Firstly, let's be honest, women are much smarter than men. I really would like to see more women in the business. Their attention to detail and lack of ego are ingredients for massive amounts of success. Frankly, I think a common misconception is that male general contractors do all the physical work and really they don't. 
RW: How do you feel about this season and wrapping season two of "The Deed: Chicago"? 
Conlon: I'm really proud of this season. All investments worked out but more importantly, it was a wonderful kaleidoscope of people pursuing their dreams and the peaks & valleys they experienced - just like a snapshot of life condensed into a show. 
RW: Overall, how has it been blending your business and expertise with reality tv?
Conlon: I have so much experience but frankly didn't full realize it until I started to share it on television. The expertise of Conlon & Co. Real Estate Merchant Bank is in the business of identifying special situations and finding unique solutions. It feels like the show has been something I've been preparing for my entire life.
RW: Can we expect to see more of Sean Conlon in unscripted tv? 
Conlon: If someone comes us with an Anthony Bourdain travel show but for real estate - call me.
In tonight's episode titled "Comeback Queen," CNBC says, "First time flipper Latitia scored a bargain fixer- upper in a great location and was convinced she could make a six figure profit. But one year in she's been ripped off by her contractor and her sure fire money maker is a money pit. Latitia's finances and self confidence are at rock bottom and worse still, her house is even in danger of falling down."
The season 2 finale of "The Deed: Chicago" airs tonight, April 8 at 10pm ET on CNBC.
Photo by: Christopher Dilts/CNBC