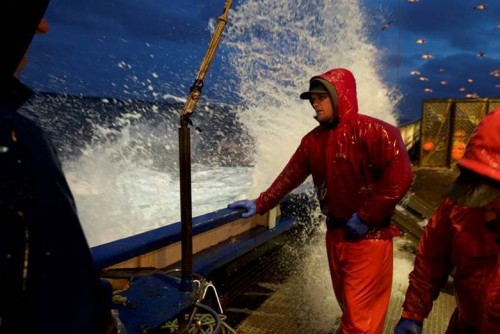 Discovery Channel announced season 16 of "Deadliest Catch" will premiere with a special two-hour episode April 14.
"For the first time ever on 'Deadliest Catch,' the Alaskan crab fleet will face off against their biggest rival - the Russians. A competition so fierce, the captains must push into uncharted territory, including one veteran actually going to Russia," says the Discovery press release. "This season will bring new fishing alliances, former Catch captains returning to the fleet and a global, headline-grabbing winter storm that pounds their crab boats."
Captains Jake Anderson, Sig Hansen, Wild Bill Wichrowski, Josh Harris and Casey McManus, Steve "Harley" Davidson, Keith and Monty Colburn all return for what turns out to be the most cut-throat season yet. Legendary skipper Johnathan Hillstrand is lured out of retirement, bringing his crab quota in tow, as well as Captain Scott Campbell Jr. returning to the fleet, both in the hopes of a massive payday. 
This season, "The Russians are taking an unprecedented move by revamping their crab quota system, and in turn, cutting down on illegal fishing. Now, the price of King Crab is slated to skyrocket, igniting the most cut-throat season yet. The quicker the captains can catch their crab and return to dock, the more money they can make. Everyone is vying for an edge - luring back some of the fleet's most legendary faces," says Discovery. 
"Forty-foot waves, hurricane force winds, heavy-machinery and massive ice are just a few reasons that no season is ever the same." The race begins in season 16 of "Deadliest Catch" premiering Tuesday, April 14 at 8 PM ET/PT on Discovery.
Photo by Discovery