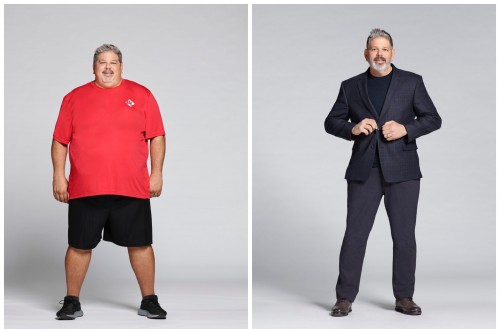 "The Biggest Loser" crowned Jim DiBattista from Philadelphia the winner on the season finale after losing 144 pounds for a total weight loss percentage of 37.4%. The father of three boys, husband, and youth football coach arrived on the ranch weighing 385 in week one. In an exclusive interview, Reality Wanted talked to Jim about his physical and emotional transformation, how he was casted for the show, and what his goals are now.
DiBattista, 47, said he was "apprehensive" going into his final weigh-in, giving a nod to the success of the other two finalists. "Just on visual, I thought both Micah and Kyle looked amazing," adding, "I know that I was comfortable with my effort though...I was proud of what I did no matter what."
How is the family man and coach different today than when he arrived on the ranch? "I'm definitely calmer than the guy that arrived on the ranch," explaining, "I had to succumb."
"I broke myself down. I allowed myself to surrender to the process of 'Biggest Loser,' especially to Erica Lugo and let her help me build myself back up to what I am today."
As a coach, Jim is now leading by example and a mentor to his young athletes. "It's amazing to know there's no hypocrite in me at all." As a former high school and college football player, he said, "'My playing days are over' I would say to my team. 'My running days are over' and that's a cop out! So now if someone is doggin' it, I might run with him."
The most difficult part of his experience was, "Dealing with my mental and physical limitations when it came to my age, and occasionally letting my age kick me out of the contest...especially early on."
He began his weight loss program on the Red Team with trainer Erica Lugo, who had her own personal weight loss transformation. "That was the beauty of having Erica Lugo as my trainer. She had been through it and she didn't let me cop out...She knows what I'm gonna feel and say."
To stay motivated in difficult or discouraging moments, "I think being discouraged is human." While on the ranch, Jim read a book by Villanova basketball coach Jay Wright quoting Father Rob who sits on the team bench saying, "The sun's gonna rise...No matter how bad today is, the sun will rise tomorrow, and I took that to heart. I believe that if you make a mistake that it's okay. Just forgive yourself and move on and make 10 good ones. That to me is really important."
Although "The Biggest Loser" season is over and the cameras have stopped filming, Jim continues to stay focused on his goals. "Since the finale, I've lost weight a little bit at a different rate. I've only lost about 14 pounds since December and I think it's a really healthy rate...My goal is to be between 220 and 230 [pounds]. As long as I'm in that window somewhere, I'm good. If I get up close to 230, I have the tools to get myself back down."
"I love to run...I try to run four miles every other day, and I'm also a huge fan of HIIT interval training with Erica and her app."
The current circumstances with gyms closed due to Coronavirus, Jim continues training with online resources and said, "It's every test I can get. I refuse to let this defeat me and when it comes to nutrition," adding, "Being healthy is so important right now."
"I look forward to working out a majority of the time. I plan my weeks out. I plan my workouts and kind of have an idea going into the week what I'm gonna do this week, and some of workouts I get really juiced about and I just know they're gonna be good things for me and I'm gonna enjoy it."
How did Jim apply and get casted for "The Biggest Loser"? When the reboot was announced, Jim was at his biggest and his wife texted him. "Me and my wife, we obviously love each other, but we also like to break stones, we like to take little jabs because it's fun," he explains, "She was taking a little jab, but I think deep down she wanted me to look at it and go 'Yeah, you gotta do something.' So I took a jab back, but really deep down I wanted help."
When Jim applied to the casting call "I filled out that form fully. I was open with the casting form. I gave them every picture they asked for. I made sure every category was filled with information. That I could provide the video." He fully planned on spending the day at an open casting call and sending selfies to his wife, but "I got a call from a casting producer like an hour later" inviting him to interview and skip the open casting call and "the rest is history" Jim said.
"I'm the biggest cheerleader for this show there ever could be," he added, "The best way to get on this show is to be as honest as you can be about your life. And really, really before you fill out that form, think about what honestly is the reason in your mind you are the way you are today...be honest with yourself and then honest with the producers."
Offering a final bit of advice, he said, "Don't beat yourself up. If you make a mistake it's okay, just move forward. Do your best the next time. Make 10 good decisions."
You can continue following Jim DiBattista's transformation and updates on Instagram @coachjim52.
Photos by: Richie Knapp/USA Network