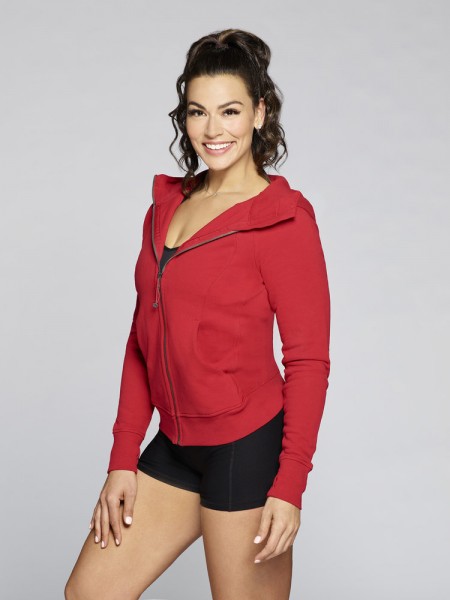 by Elizabeth Collins
The reboot of "The Biggest Loser" premieres tonight January 28 at 9pm ET on USA Network. Reality Wanted had an exclusive interview with new trainer Erica Lugo who joins trainer Steve Cook and host Bob Harper in the all-new season of the weight loss competition.
USA Network says, "Lugo is a bona-fide weight loss inspiration to her hundreds of thousands of followers worldwide. After reaching a peak weight of over 300 pounds, she decided to change her life once and for all and lost an incredible 160 pounds in two years."
Reality Wanted had the opportunity to learn more about Erica, the upcoming season of "The Biggest Loser" and how she landed her role as a trainer on the show.
"It's really starting to set in now...I'm really excited, but I'm also kind of terrified just because this is all the emotions in one right now," Erica says about approaching the premiere of her first season on "The Biggest Loser."
Previews and trailers of the new season reveal "The Biggest Loser" is going to be different and Erica explains, "This season we're really focusing on mind, body, and fuel, and I love the mind part of it. We have group therapy sessions every single week," adding, "That's been a huge component and then obviously new trainers and a new location."
In the beginning of her own weight loss, Erica says, "I struggled with my weight my whole life...I got on the scale and I was 322 lbs and that terrified me. As a young mother, that terrified me." Because of her personal experience Erica admits she's empathetic saying "It's gonna be a joke on how often I cry during this season," but "on the other hand I'm very tough love with them and I think people will be surprised about that when they watch."
Her experience and empathy are not necessarily an advantage, but rather "a different angle" as a trainer "because I've lived every excuse that they come up with. I've been there, I've played the book." When Erica met her team, they felt a personal connection and soon realized, "'Oh, crap!' She knows the game as well. She knows what I'm trying to pull on her, and she's not going to let me get away with it."
Sharing the details of daily life for the contestants, Erica says, "We taught them so much about sleep, we would make sure they're getting 8-9 hours of sleeps every day. They would wake up; they go take a walk. Then they have a workout with us, and then they go home and they prep all their own food...eat lunch, hang around at the house, take a nap if they wanted to, go for another walk and then maybe another workout in the evening," adding "That's their life...Sleeping, eating, working out and hanging out with themselves in group therapy sessions."
Although this season will focus on mental fitness as well, the numbers on the scale are still a competitive part of the show. "These people all signed up for that. They know what to expect," Erica says of the contestants, "However, this season I really noticed a lot of people...when they would get eliminated, they were upset to a point...but at the same time they felt good about what they had put on the scale. And I think that shows so much on how we focused on changing how you think and feel about yourself."
With social media and "The Biggest Loser" as a platform to impact the millions of American adults with weight challenges, Erica's message is "Hope. At the end of the day everyone wants to have hope, and that's what this show is about. I think sharing my story just shows people that there is hope out there for them."
Erica's following and influence on Instagram is how she was casted to be a trainer. "Casting producers found me on Instagram...and one of them sent me a DM," which she admits ignoring at first.
To see and hear more from Erica Lugo, you can follow her on Instagram @ericafitlove.
Catch USA Network's reboot of The Biggest Loser airing every Tuesday at 9/8c beginning tonight, January 28.
Photo by: Richie Knapp/USA Network