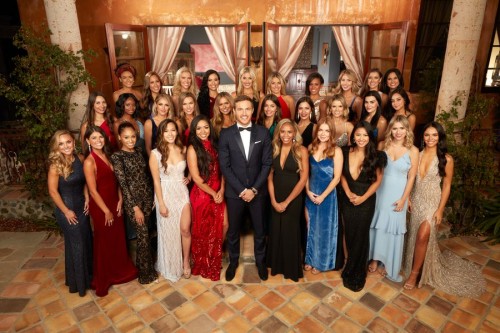 Monday night, January 6th, "The Bachelor" returns on ABC with the charming pilot, Peter Weber, who will meet 30 women vying for his heart. The highly-anticipated season begins with a three-hour special. At the end of the night, Peter will have to send 8 women home for 22 bachelorettes to stay and go along on this adventure.
Peter's romantic journey will take him and the women to Costa Rica, Chile, Peru, and beyond. "Adventurous dates will test the women's perseverance in pursuing their romantic objective, along with fun, exciting and exotic dates that will elicit real and raw passions," says ABC's press release.
Special upcoming highIights this season include celebrity appearances by country musician Chase Rice, original "Queer Eye" fashion expert Carson Kressley, Supermodel Janice Dickinson, comic actor Fred Willard and 'Bachelor' nation favorite, Demi Burnett.
Meet the 30 women looking for love with Peter this season:
Alayah, 24, an orthodontist assistant from San Antonio, TX 
Alexa, 27, an esthetician from Chicago, IL
Avonlea, 27, a cattle rancher from Fort Worth, TX
Courtney, 26, a cosmetologist from Venice, FL
Deandra, 23, a home care coordinator from Plano, TX
Eunice, 23, a flight attendant from Chicago, IL
Hannah Ann, 23, a model from Knoxville, TN
Jade, 26, a flight attendant from Mesa, AZ
Jasmine, 25, a client relations manager from Houston, TX
Jenna, 22, a nursing student from New Lenox, IL
Katrina, 28, a pro sports dancer from Chicago, IL
Kelley, 27, an attorney from Chicago, IL
Kelsey, 28, a professional clothier from Des Moines, Iowa
Kiarra, 23, a nanny from Kennesaw, GA
Kylie, 26, an entertainment sales associate from Santa Monica, CA
Lauren, 26, a marketing executive from Glendale, CA
Lexi, 26, a marketing coordinator from New York, NY
Madison, 23, a foster parent recruiter from Auburn, AL
Maurissa, 23, a patient care coordinator from Atlanta, GA
Megan, 26, a flight attendant from San Francisco, CA
Mykenna, 22, a fashion blogger from Langley, British Columbia, Canada
Natasha, 31, an event planner from New York, NY
Payton, 23, a business development representative from Wellesley, MA
Sarah, 24, a medical radiographer from Knoxville, TN
Savannah, 27, a realtor from Houston, TX
Shiann, 27, an administrative assistant from Las Vegas, NV
Sydney, 24, a retail marketing manager from Birmingham, AL
Tammy, 24, a house flipper from Syracuse, NY
Victoria F., 25, a medical sales representative from Virginia Beach, VA
Victoria P., 27, a nurse from Alexandria, LA
Host Chris Harrison returns to take Peter and fans of Bachelor Nation on a another wild season of "The Bachelor" premiering Monday, January 6 at 8pm ET on ABC.
Photo credit: ABC/Craig Sjodin